A Veteran of Real Estate Quality: David Kubes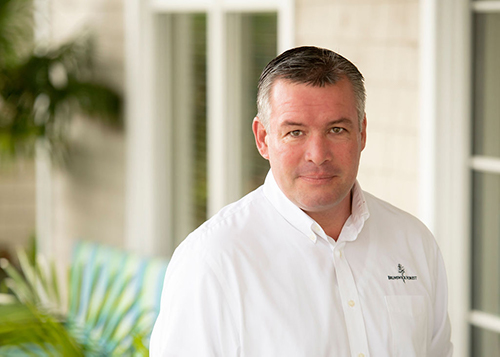 Our agents here at Brunswick Forest have two main goals: getting you into the home of your dreams and ensuring you have the best experience possible while doing it. David Kubes is one of the most knowledgeable agents in our community. With his friendly nature and passion for the local area, David has forged a meaningful bond with just about everyone he's worked with.
For David, ensuring that visitors to Brunswick Forest are happy, is a highly personal matter. He grew up around Leland, North Carolina, and wants them to experience the same magic that he has. To his fellow agents, David is a valued source of experience in the business. Whomever he meets, David is always willing to share a smile and treasured stories.
"My focus has always been on not selling property but truly helping guide clients on their journey to find the best fit for their real estate needs and wants. Most of my clients are not only relocating to a new area but also downsizing from a home they have raised their family in. This isn't a simple task and involves many steps to be assured that their decision is the best one for today and in the future," he says. David often makes it his goal to position his clients for "aging in place."
Ever since joining our real estate family back in 2007, David has been responsible for dozens of new residents moving to Brunswick Forest. He highlights how the greatest virtues you can give an aspiring homeowner who is looking to relocate are knowledge and being a good listener. "In this business you're always learning, and I've tried to become a better listener over the years." Since first becoming an agent, David has made it a priority to make use of modern technology, such as drones, to provide others with a first-hand visual perspective of Brunswick Forest. For him this has been part of his personal and professional evolution. "I'm known around the neighborhood as the "Drone Guy". This has proven to be a great resource during the lock down and even after the pandemic. If you are looking at our website or social media, you have seen some of my work."
Despite the challenges of 2020, David has seen Brunswick Forest grow and flourish this year; That includes welcoming a lot of new move-ins and homeowners looking to retire earlier than planned. "We have welcomed a record number of new homeowners and it is astonishing to see how many people are walking in our doors of the Welcome Center each day. We are hearing that many have had the time to think about their lives. And with so many people working from home, they're realizing that moving sooner rather than later is now possible."
Around the community, David has seen a lot of positive activity. As a possible homeowner looking to relocate, you might be thinking: "Is this a good time for me to visit or move to Brunswick Forest?" For David, it's always a great time to visit and the best time for someone to buy is when they feel good and ready. "I always recommend that clients take advantage of our discovery package which allows the exploration of the coastal area, not just Brunswick Forest. We encourage clients to see how easy it is to navigate everything from going to one of the local beaches for the day, to historic downtown Wilmington for the cultural experience or a quick run to Costco."
David isn't just a valued member of the Brunswick Forest team, he's a part of the community too. He loves the local area, and he wants others to experience those same feelings. When not on the job, you can find David and his family bike riding around the community. He's looking forward to the summer events happening in the area, such as Brunswick Forest's 4th of July celebration.
If living life in paradise is your goal, then be sure to visit Brunswick Forest as soon as you can! As David points out, it's important to see everything for yourself in person before you decide. "Speak to homeowners in the community about their experience and why they decided on calling Brunswick Forest home," he concludes. If you're curious in discovering what a coastal lifestyle can do for you, visit us through a Coastal Discovery Tour or the upcoming July Coastal Home Showcase. If you have questions for David or the rest of our real estate team, contact us at: 833-497-1001