B.R.U.N.S.W.I.C.K. Forest: Spell It Out
February 16, 2022
ISWebmaster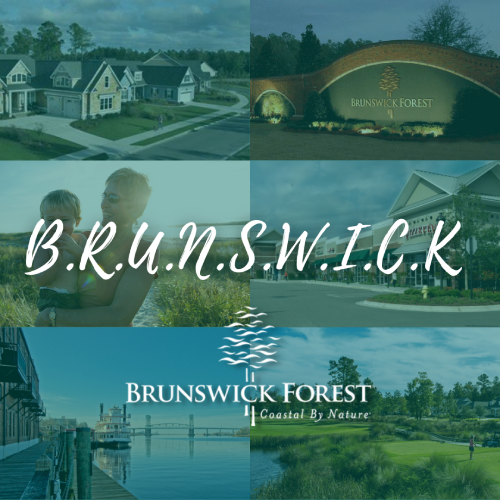 Words hold a lot of power! For residents who have found their paradise here at Brunswick Forest, there are a lot of words that have come to describe this community and the people that live here. Why should you think about moving to Brunswick Forest? The reasons are right in our name!
B. R.U.N.S.W.I.C.K. Forest:
Builders
At Brunswick Forest, we have an amazing portfolio of no less than 10 preferred builders. Our building partners are constantly pushing the envelope in creating desirable, functional, well-equipped, energy-efficient, and luxurious homes spanning several different floorplans. Their liaisons work hard to give you a personalized experience and guide you every step of the way. The result is that you can make your coastal dream home a reality.
Residents
Without the support of our amazing residents, Brunswick Forest wouldn't be close to what we are today. Regardless of which side of the country you're moving from, our residents will always welcome new homeowners with open arms and make them feel like they belong to an extended family. Our community members build strong bonds and create lifelong friendships through many of our resident-sponsored activities.

Unique
Brunswick Forest is the kind of community that stands out even amongst others of its kind. Our proximity to seven white-sand beaches, a 500,000 square-foot town center, and an ideal location between Wilmington and Leland makes us unique. At Brunswick Forest, having a convenient and safe environment is part of our identity. We have plenty of amenities to cater to every lifestyle, and wide range of building floor plans to sync with your lifestyle choices. The sales team evolve beyond being professionals and become true friends with the residents here. Brunswick Forest is a community where ideal active lifestyles can thrive.
Never a Dull Moment
Just like the Atlantic Ocean and Cape Fear River, life at Brunswick Forest is always moving. Whether it's a charity motorcycle parade, a Coastal Showcase Weekend, a local art gallery, or a Cardboard boat regatta, there's something right around the corner. Our 12 amenities including tennis, pickleball, three saltwater pools, almost 100-miles of walking trails, and championship golf are more than enough to keep any resident busy year-round. In addition, the towns of Wilmington, Southport, Leland, and Wrightsville Beach are not far away either. So, whether you're at a local concert here in Annsdale Park or at the North Carolina Azalea Festival, an adventure is waiting just outside your door.
Shopping
A favorite pastime for Wilmington locals is being able to shop in a plethora of local stores filled with a variety of goods by craft vendors. The Southeast has become a haven for artists and culinary experts, and large shopping boutiques such as the Cotton Exchange and Blue Moon on Racine. The Leland area has also become a shopper's paradise. Our residents also possess the advantage of having The Villages Town Center right inside our community. The Villages Town Center has everything our residents need from coffee to shoes, pharmaceuticals, banking, a grocery store, and even a family-owned shop that sells the best pet supplies.
Wilmington
One of the most popular coastal locations for inbound movers is Wilmington, North Carolina. Dating back to colonial times, this Southern gem is known for its rich history, many shops, restaurants, cafes, bustling brewing scene, and friendly folk. Wilmington has several beloved traditions such as the Riverfest and Rims on the River. The fact that Brunswick Forest residents have this incredible city so close to their homes is a large part of what makes our community so special.
Involved
Our residents take pride in being part of a community that is not only welcoming but very open to including all new residents. From cooking clubs to knitting and fishing, there's a lot to do in our community. Brunswick Forest residents believe in making space for one another in their daily lives regardless of who you are or where you come from! Everyone is able to pursue their passions together and find a place here with all the different resident activities.
Coastal by Nature®
Brunswick Forest is a coastal community nearby to well-regarded beach hot spots like Wilmington and Southport. The ocean is a strong influence on daily life in Southeastern North Carolina and drives a lot of our local events, businesses, and culture. A large majority of new transplants like the idea of being close to the beach, and it's easy to see why. At Brunswick Forest, we concentrate on being a paradise where there's no stress or strings attached.
Kick Back and Relax
Relaxing and savoring every day like you're on a permanent vacation is what we mean when we say living at Brunswick Forest is "Coastal by Nature®." So, what are you waiting for? Come visit us for yourself with our Coastal Discovery Tour, or contact our team at 833-497-1001.