Resident-Driven Activities Continue to Grow in Brunswick Forest
November 15, 2018
Beth Burgee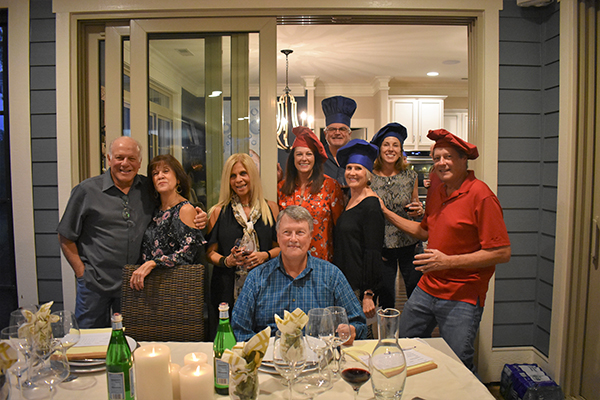 Adapting to a new lifestyle, in a new location, with new neighbors and surroundings can be a bit daunting at first. However, the transition into a new community is what inspires and motivates many of our residents to continue to learn, grow and develop new hobbies and activities that keep them engaged and active within the community. With an evolving and growing list of resident sponsored activities, Brunswick Forest is constantly adding new clubs, activities and events to our repertoire.
While our Fitness & Wellness Center does an outstanding job of offering residents an ever-changing list of monthly activities to keep you busy, many of our residents have also started to organize smaller groups within their neighborhoods that host weekly, bi-weekly and/or monthly get-together's. Events range from a weekly Wine Wednesday and Book Club Thursday all the way to the annual Cardboard Boat Regatta and Amazing Race Competition. These events have created a diverse and welcoming dynamic for all of our residents and with a growing list of activities offered, the sky is the limit for what future clubs and activities can be created.
Shining a spotlight on one couple that has grown to become a major facet of our Brunswick Forest community, Mike and Tee Leffin stay busy creating and brainstorming new ideas for resident-driven events throughout the neighborhood. While each event varies in size and focus, the premise of each is to create a fun and entertaining activity for their friends and neighbors to participate in.
Originally from Wisconsin, Mike and Tee Leffin made the move to Leland in 2016 and have found a permanent home here in Brunswick Forest. Settling into the Shelmore neighborhood, the Leffin's now organize and host several small, specialty events throughout the year. Most recently, the duo hosted their annual Chopped competition this past month. If you're not familiar with the popular television show, the basis of the competition is to test your culinary skills as you face off against one another to prepare a spectacular three-course meal.
In the Leffin household, participants were split into two teams, selected the morning of the competition. Once groups are assigned and the secret ingredients are unveiled, the teams disperse to work on their menu. After a full day of preparing, the two teams reconvene back at the Leffin's home for the big party!
This event is one example of the many events orchestrated by our Brunswick Forest residents. Joining together to create an active, friendly and close-knit community, our residents are constantly joining together and collaborating on new activities, events and offerings to keep Brunswick Forest vibrant.
22472
false
false
true
false
true
true
false
auto
false
ease-in-out
300
false
0
true
false
%curr% of %total%
www.brunswickforest.com
866-831-8382