Why List with Brunswick Forest Realty? Knowledge, Experience and Passion
February 3, 2021
ISWebmaster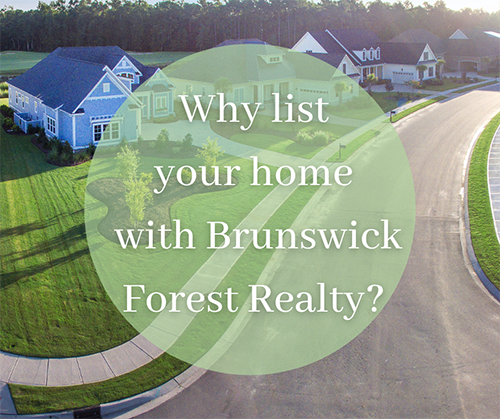 Whether you are moving down the street or across the country, selling your home is a major decision. The process can get a little overwhelming but selecting the right real estate agent to list your home with can make all the difference. It is important to choose someone familiar with the area, and someone with proven experience. Even more so, you want to work with someone who values the responsibility you are entrusting them with. In addition to our local, regional, and national marketing campaigns, we have a team of agents who are skilled and dedicated professionals.  When you list your home with Brunswick Forest Realty, we have community knowledge, real estate experience, and are passionate about what we do!
We know the community better than any other real estate company.
Who knows Brunswick Forest better than us? Since the beginning, our agents have been focused solely within the community. Most of our agents have been here for many years, and a couple has even been here since the beginning, such as David Kubes and Kim Fanelli! Our Broker-in-Charge and Principal Owner of Brunswick Forest Realty, Jerry Helms, has had an extensive role in the community's development. Being so familiar with the master-planned community benefits you and your potential buyers! With a wealth of knowledge and experience, we can answer any questions that may arise.
Our Sales and Welcome Center is located within the neighborhood and is an anchor for all things happening within the community. Our location makes us convenient for you and your buyer to access. We are also often the first stop for aspiring homeowners interested in Brunswick Forest and introduce hundreds of families to Brunswick Forest a year.
We have the numbers to prove it.
For nearly the past 15 years, Brunswick Forest Realty LLC has been Brunswick County's top producing real estate company. Our team is knowledgeable and educated on Southeastern North Carolina Real Estate. Last year alone, Brunswick Forest Realty helped over 425 families with their new homes, with a total sales volume of $150 million. In addition, Brunswick Forest Realty sold more resales in Brunswick Forest than any other real estate company.
We're passionate about what we do.
We recognize selling your home is a big decision, and we take the responsibility very seriously. Our agents love what they do and are passionate about helping you sell your home. As Jerry Helms says, 'We work with purpose, at the end of the process, we want our clients to say, "the sales and marketing team here really took to heart the awesome responsibility we're entrusting them with… to guide us through the buying and selling decisions.""
If you need help selling your home or would like more information about the real estate market at this time, give us a call or stop by our Welcome Center. We are here to help! Contact us at 833-497-1001