WHY FIDO WILL LOVE BRUNSWICK FOREST
July 11, 2017
Beth Burgee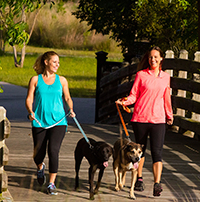 If your pets are like ours, they are family — and their well-being is an important part of the moving decision, so below we have outlined the Top 5 Reasons Fido Will LOVE Brunswick Forest!!
#5- The restaurants in The Villages at Brunswick Forest with outdoor seating — The Joyce and Pizzettas — love having Fido along for a meal with the family and will be happy to bring over water to keep him hydrated!
#4– Brunswick Forest is full of animal lovers!!  Including Dave and Betsy Head, owners of Family Dog Natural in The Villages in Brunswick Forest.  This will be Fido's new favorite store for toys, treats and the best organic dog food!
#3- There is an off-leash dog park in Meadow Park at Brunswick Forest where Fido can meet up with all of his friends for a day of play!
#2- If Fido prefers to hit the trails, there are over 100 miles of walking, biking and nature trails in Brunswick Forest!  There will be a new trail to explore every day!
#1- Best of all, top-notch healthcare is available to Fido at the Brunswick Forest Veterinary Hospital!  Dr. Z and the gang look forward to meeting Fido and keeping him in great health as he enjoys his new life at Brunswick Forest.
Should Fido be interested in visiting Brunswick Forest and trying on the lifestyle our team can accommodate your whole family on our 3 day-2 night Coastal Discovery Package!  Call us today to arrange your stay – 888.371.2434!!
www.brunswickforest.com
888.371.2434