MEADOW PARK HAS IT ALL!
September 7, 2012
Brunswick Forest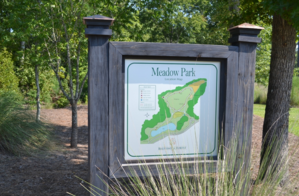 Enjoy the smooth transition from summer to fall in the scenic and charming Meadow Park located in Brunswick Forest! This park has so many great activities that'll keep you and your friends busy all day long.
Explore the wonders of the rain garden on your walk in and enjoy the picturesque landscaping of this beautiful park. Take a stroll around Meadow Park on the paved walkways that weave gracefully around the perimeter. Make a pit stop at the playground and let the kids play to their hearts delight on the swing set and slide! Bring your own picnic basket and snack the afternoon away under the covered pavilion area of the park. You can even unleash your pooches at the Bark Park for some doggie playtime!
Meadow Park has it all and is ready for you to make a day of it!