BRUNSWICK FOREST PETS ENJOY INNOVATIVE VETERINARY CARE WITH K-LASER THERAPY IN THE VILLAGES AT BRUNSWICK FOREST
June 28, 2016
Brunswick Forest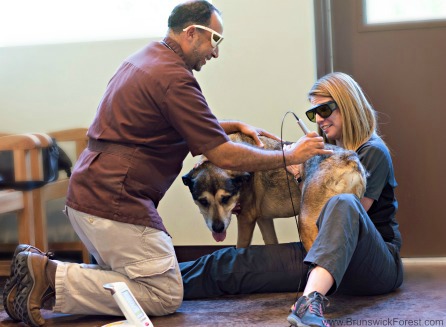 Residents of Brunswick Forest with pets are lucky to have access to top-notch veterinary care right in The Villages at Brunswick Forest with the Brunswick Forest Veterinary Hospital. On top of the many services the hospital offers like blood transfusions, dental care, boarding, emergency care and radiology, Brunswick Forest Veterinary Hospital offers K-Laser, therapeutic laser treatment to help with a number of medical conditions. This innovative treatment is not offered at many veterinary care facilities in the area and is just one more example of the high quality services that are offered to Brunswick Forest residents in the The Villages.
LASER THERAPY TREATMENTS
Laser therapy uses red and near-infared light to create therapeutic effects such as improved healing time, pain reduction, increased circulation and decreased swelling. Studies show that laser therapy can help with osteoarthritis and joint pain in aging pets, edema and congestion, ligament sprains, muscle strains, puncture wounds, post-traumatic injuries, post-surgical pain, neck and back pain, hip dysplasia, burns, chronic wounds, rehabilitation, and post-orthopedic surgical recovery.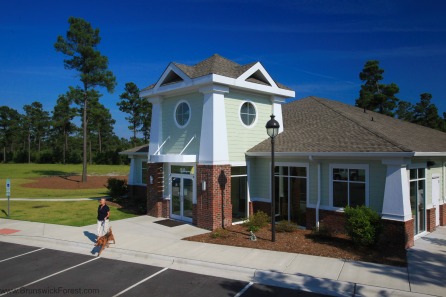 EFFECTS OF LASER TREATMENTS
Laser treatment is painless for pets and helps increase circulation to specific areas of the body. The laser helps to draw water, oxygen and nutrients to damaged areas so they body can help to heal itself. This helps to reduce inflammation, swelling, muscle spasm, stiffness and pain. During the treatment, laser light interacts with tissues at a cellular level and increases cellular function and heath.
LEARN MORE
Interested in laser treatment for your pet? Contact Dr. Z or Dr. Terry at Brunswick Forest Veterinary Hospital for information regarding treatment options for your dog or cat. 910.777.2107