What to Expect on the First Contact with Brunswick Forest
October 20, 2020
ISWebmaster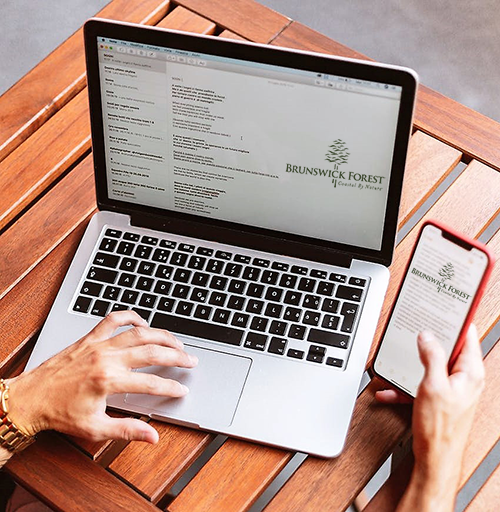 The life of a broker involves trust, knowledge, and the ability to guide clients to their dream homes. When it comes to choosing the right state, planned community, and home for your client, these qualities make a monumental difference- especially for those relocating. To do this, you need proper resources to help them with these decisions. The helpful real estate team at Brunswick Forest is always looking to make Here is what you need to expect making the first contact with our real estate team!
When you first decide to learn about who we are, what homes we offer, our team, and our building partners. Our broker liaison, Reid Myers, is here to help. Reid started working for Brunswick Forest in September of 2019 and has already become a pivotal part of our broker resources. Reid's job is to make sure that you are educated on everything Brunswick Forest has to offer you and your prospective client. Her goal is the same as yours – to help you sell homes in Brunswick Forest and give clients the dream life that they deserve.
For Reid and the rest of our team, it is all about doing the heavy lifting for all the brokers who choose to work with us. You will find that registering your client with Brunswick Forest is very easy! You can even visit the Broker Referral tab on our website, prior to your visit to get your client registered and better utilize your time with us. We also provide an abundance of digital resources to take advantage of such as our homes to tour digital flipbook, photo gallery, and community album. From amenities to the different neighborhoods, upcoming developments, and brand-new homes to tour, you can be sure our team at Brunswick Forest will keep you informed. Everything you need is easily located on brunswickforest.com.
When first physically meeting with our experienced sales agents and teams, you are going to be amazed at how personable everyone is. It is not just about making a sale; it is about getting you what you need to succeed. Even if that means making a special trip out to YOUR office and give a presentation to you there if that is what is most accommodating for you.
At Brunswick Forest, we pride ourselves on the treatment of our broker friends. It is our mission to ensure you enjoy your partnership with us. If you or your client ever have any questions, then contact us at 855.983.9579.