What to Expect from Your Brunswick Forest Tour?
April 12, 2021
ISWebmaster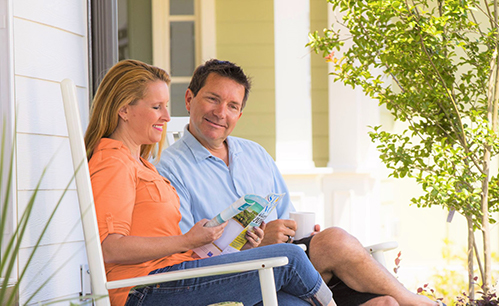 What can visitors look forward to when touring Brunswick Forest? The first thing you're going to notice is that we nurture a friendly and welcoming atmosphere. We're not just another master-planned community that wants to sell you, but one big family that wants you to experience what makes our area so great. Whether it involves enjoying the mild year-round temperatures or going to one of seven beaches, our guests can expect a pressure-free environment that allows them to discover our Coastal By Nature® lifestyle at their own pace.
Visitors have two different options when it comes to touring at Brunswick Forest. You can choose between experiencing our community through a Coastal Discovery Tour and our Coastal Home Showcase Weekends. But you are also able to stop by as a walk-in, so you can tour with us anytime.
When you arrive at Brunswick Forest, you will be welcomed with open arms and given royal treatment every time. Our sales agents are more than just guides who provide transportation, they take the time to connect with you on a personal level. We treat everyone with plenty of respect and breathing room so you can choose to experience our coastal lifestyle the way you see fit. If there's a certain neighborhood that you read about in our collateral material and you want to see it, we'll take you there. Thinking about spending some time exploring the greater Wilmington area? We will accommodate you to the best of our ability. For our team, it's all about feeling welcome in an area that people just seem to fall in love with.
If you ever have any questions, our professional staff is more than happy to share our knowledge with you. We have many testimonials, pictures, and even digital flipbooks to browse. There is also an active live chat on our website, so even after your tour at Brunswick Forest comes to an end, we can be there to answer any last-minute concerns.
Master-planned communities vary regarding amenities and home choices, but it's rare where you find a place that the perfect balance of location, convenience, natural beauty, and caring residents like we have here at Brunswick Forest. When you visit us and experience what it's like to be a part of our family, we think you will agree too! Call us at 833-497-1001 and schedule your tour today!