Visiting Coastal Carolina? Make it a Permanent Vacation at Brunswick Forest
March 25, 2020
ISWebmaster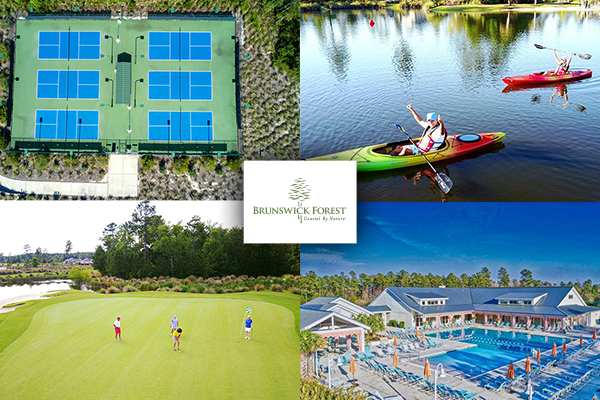 With its pristine beaches, historic value, natural beauty and commercial areas, Wilmington, North Carolina has become one of the top places to settle down in the entire country. In fact, the Old North State has been ranked as number six in the top 10 slots. What if you could turn your next visit to the greater Wilmington area into a permanent vacation opportunity? There is a way! And it begins by taking a tour of Brunswick Forest.
Wilmington was nominated as one of the nine coolest places to visit in the entire state of North Carolina by tripstodiscover.com. The skyline of historic downtown Wilmington and its scenic waterfront are easily one of the top visited places in our local area. In recent years, there's been plenty of action over on the other side of the Cape Fear River as well. Leland has become one of the most heavily desired areas in nearby Brunswick County, because it is close by to more great seaside areas such as Oak Island and Southport, there's tons of restaurants, places to relax, and gathering areas for local events.
By stopping by to tour Brunswick Forest, there's a way you can make your vacation into your permanent lifestyle! The real estate team at Brunswick Forest is all too willing to make your transition stress free and enjoyable. You can adjust the moving process to what works best for you and take comfort in knowing that everything you need is only a few minutes from your home. The Villages Town Center is 160 acres of community convenience down the street from all the resident neighborhoods. You can enjoy pickleball with up to 10 outdoor hard-top courts, three saltwater pools with another on the way, miles of walking trails, parks, water features and even an award-winning championship golf course. If you have a passion in your life, Brunswick Forest can help you enjoy it to the fullest!
As a master-planned community that is known for its amenities, awards and happy residents, Brunswick Forest is one of the most desirable places to live in the Southeast. There are two unique ways that prospective home buyers can experience what Brunswick Forest has to offer. They can get a full community experience during large sales events or homecoming weekends. These weekends will often involve major parts of the community and include plenty of events that will allow you to experience Brunswick Forest's amenities, lifestyle, homes and resident experiences firsthand. You may also visit Brunswick Forest through the Coastal Discovery Tour, which offers a more individualized experience.
There's no doubt that the Wilmington area is easy to fall in love with. Imagine how much you'll love never having to leave. Make the coastal Carolina lifestyle your permanent vacation all year-round by choosing to settle here at Brunswick Forest. Have a question? You can contact us at: 855.983.9579