VISIT AREA FISHING PIERS THIS SUMMER
July 17, 2016
Brunswick Forest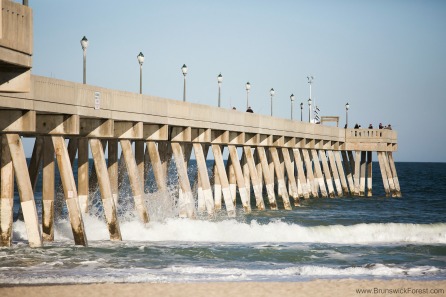 If you are an avid fisherman, Brunswick Forest is the place for you! Our community has its own fishing club which meets on a regular basis to plan fishing excursions and there are multiple places for fishing right within the community. Brunswick Forest and the surrounding areas offer many opportunities for saltwater fishing, including fishing off the area's many local fishing piers.
KURE BEACH PIER
Enjoy a piece of history when you fish off the Kure Beach Pier this summer. As the oldest fishing pier on Atlantic Coast, the Kure Beach Fishing Pier remains a local landmark and popular angler spot in the summer months and beyond.
JOHNNIE MERCER'S PIER
Johnnie Mercer's Pier is another unique area fishing pier as it is the only concrete pier in all of North Carolina. This pier extends an impressive 1200 feet out in to the Atlantic Ocean and offers both opportunities for fishing as well as lovely views of the ocean and nearby beaches.
CRYSTAL PIER
Wrightsville Beach's Crystal Pier is open to the public for both visiting and fishing daily from 8 am until 10 pm. Unlike Johnnie Mercer's Pier, Crystal Pier does not charge for access.
OAK ISLAND
The nearby Oak Island Pier is open for fishing with some restrictions and a daily ticket. After a morning of fishing, stop by the pier's restaurant, The Flying Fish Café, for delicious local seafood and standard fare like burgers, tacos and more! Can't make it to the pier? Check out their live web cam for a taste of what coastal living looks like!
HOLDEN BEACH
With the distinction of being one America's Best Family Beaches, nearby Holden Beach offers a quiet alternative to other local beaches which are more frequented by seasonal tourists. The Holden Beach Pier offers ample opportunity for fishing even during the busy summer months.
FISHING PIER AT THE NEW BRUNSWICK RIVERWALK
The new Brunswick Riverwalk at Belville has thousands of feet of new boardwalk overlooking the Brunswick River as well as a large fishing pier which is free and open to the public. Make plans for a fishing trip with friends and family this summer.