NEW BRUNSWICK RIVERWALK ANOTHER FANTASTIC AMENITY FOR BRUNSWICK FOREST RESIDENTS
July 9, 2016
Brunswick Forest
Residents of Brunswick Forest, the coastal south's fastest growing community, enjoy a number of amenities within the community like the more than 100 miles of walking biking and nature trails, tennis and pickleball courts, three community pools, 18,000-square-foot Fitness and Wellness Center, kayak and canoe launch and boat ramp to Town Creek, 18-hole championship golf course and 160-acre commercial town center with shopping, dining and access to medical services. They are twice as lucky to also have access to nearby local amenities like the new Brunswick Riverwalk.
WATER, WATER, EVERYWHERE
The Brunswick Riverwalk gives residents of Brunswick Forest yet another way to access one of the area's waterways. Easy and convenient access to water, and the prevalence of waterways in the area with the Atlantic Ocean just nearby, Town Creek located alongside the community, the Cape Fear River less than seven miles away, the Intracoastal just a short drive away and the Brunswick River accessed via the Brunswick Riverwalk make water sports a favorite pastime for Brunswick Forest residents.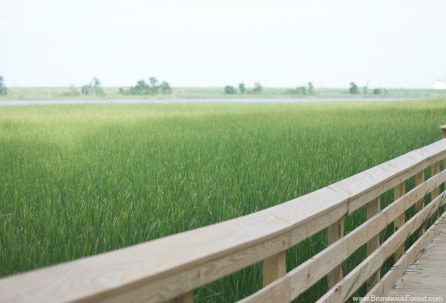 COASTAL BY NATURE
The Brunswick Riverwalk offers another way to enjoy the beautiful natural surroundings of coastal North Carolina. The Belville Waterfront Park and Brunswick Riverwalk provide a ½ mile of nature trails and picnic grounds, a large fishing pier and several thousand feet of boardwalk walkways surrounded on all sides by lush marsh grasses and offering sweeping views of the Brunswick River.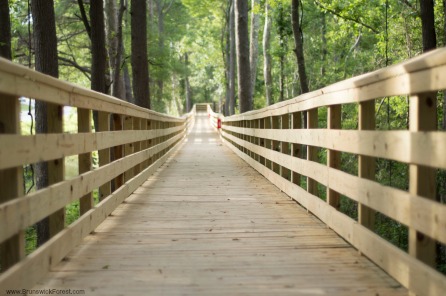 JUST ONE OF MANY AREA IMPROVEMENTS
The Brunswick Riverwalk is just one new feature that has been added to the Belville Waterfront Park and one of many area improvements that benefit not only Brunswick Forest residents, but residents of the Greater Leland area. Visit Brunswick Forest for a Coastal Discovery Tour and see for yourself all of the many local treasures like the riverwalk that make this area so unique.