This is Brunswick Forest!
December 24, 2021
ISWebmaster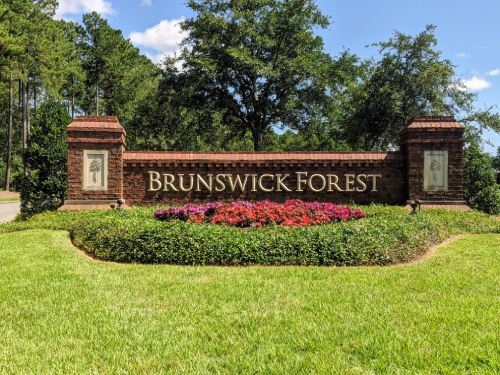 A community needs to be more than just another place to buy a house and live. The real heart and soul of what makes Brunswick Forest stand out is the amazing team, ideal location, and the neighbors that live there. The people you will find here are fun-loving, friendly, welcoming, active, and always willing to invite more people into their lives. A fun place to live, amongst gorgeous nature and in a safe environment; This is Brunswick Forest!
Amenities:
Most master-planned communities will offer amenities in the form of pools, a tennis court and so on. But Brunswick Forest has 11 amenities all expertly located close to all our different neighborhoods. Our pickleball and tennis courts are award-winning and have been written on in publications such as Ideal-LIVING Magazine. We have two amazing salt-water pools with a third on the way in the form of Reflections at Brunswick Forest. Our Fitness Center is fully staffed and open year-round to help you engage in your independent active lifestyle, however you choose to. Championship golf here at Cape Fear National is some of the most desired in the Southeast outside of Myrtle Beach, and it's open to all residents. We even have our own 500,000 square-foot town center filled with health professionals, a bank, pharmacy, grocery store, and a variety of other locally owned businesses for the ultimate convenience. Brunswick Forest is a place where you have everything taken care of, so you can focus on living to your fullest.
An Active and Welcoming Community:
Brunswick Forest is a haven where you can take full advantage of living in gorgeous Southeastern North Carolina. Leland, Belville, and the greater Wilmington area provide you with plenty to do from beaches to shopping downtown. But Brunswick Forest also has lots of green space for all your activities. From a bark park to walk your dog, to almost 100 miles of dedicated biking trails, life at Brunswick Forest is about enjoying things at your own pace and giving you easy-to-access locations to act out your passions. Our community is filled with people who love engaging in their favorite activities and sharing that with like-minded residents.  There are several events that we have where the entire community gets involved. This includes our cardboard boat regatta, our community showcase weekends, several concerts that have been performed at Annsdale park, a car show in The Villages Town Center, tailgates, and several charity events. Regardless of who you are and what your interests might be, there's always something to do here.
Plenty of Options and a Team That Cares:
Brunswick Forest is all about variety in your life, and that extends to homebuilding options as well. With 10 preferred builders and plenty of flexible floor plans to choose from, we're confident that finding your dream home will be a very real possibility here at Brunswick Forest. From small ranch-style homes to exclusive golf course living, if you've got a vision, we have the partners to make it a reality. Our real estate team works hard to make sure you always feel welcome. We want the warmth of our community to do all the talking for us! That atmosphere is the kind that we work hard to promote here so that you find exactly what you want.
 This is Brunswick Forest:
Simply put, Brunswick Forest is more than just another nice place to live. We're a lifestyle and a community of friends that have become like one big family. And when you choose to visit us through our Coastal Discovery Tour, or on your own time, you see those qualities shine through. See if being a part of Brunswick Forest is right for you by taking the first step to contact us at 833-497-1001.