Reflecting on a Fantastic Upcoming Amenity: Reflections Nearing Completion
November 5, 2021
ISWebmaster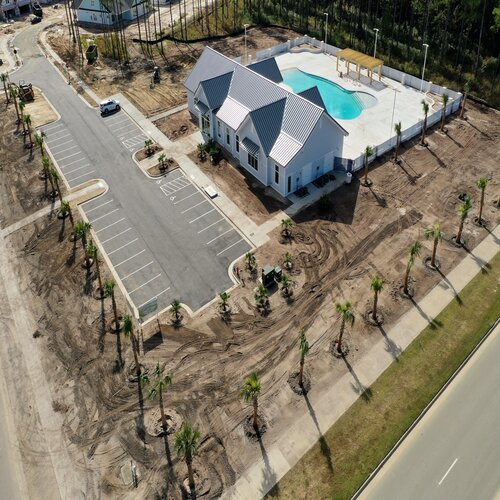 You might have seen or heard a lot about our latest upcoming amenity, Reflections at Brunswick Forest. If you haven't, the best way we can describe it is as a peaceful retreat that will provide residents with another convenient place to relax outdoors, swim, meet, or engage in cardio activities. Reflections has come a long way since the beginning of the year, making steady progress throughout 2021. Now, this amazing facility is nearing completion, and everyone is excited to use this reflection of luxury.
If there's one thing our master-planned community is known for, it is encouraging a healthy and active lifestyle through a wide variety of in-house amenities. It provides a great way for residents to get out, stay active, and enjoy their lives to the fullest without having to drive excessive distances to do so.
Perhaps one of the facilities that sees the most use is our staffed Fitness and Wellness Center. Reflections is every bit as attractive and luxurious. The pictures of all the progress being made simply don't do it justice, which is why we can't wait until our residents can see it in person! But when it's done, we know it will be a valued part of the community.
There's already been amazing progress and just about the entire facility has taken complete shape. The saltwater pool has been carved out of the concrete that's been laid for the outdoor lounge. From the air, you're able to see the gently sloping beach-style entryway into the pool. The stairs for the pool have also been installed, showing how this is an amenity that can be enjoyed by everyone, including those who might not be as mobile as their neighbors. Landscaping has started, and the gazebos and exterior fencing has begun to take shape as well.
As for the cardio facility, the exterior has been mostly completed! It's a sizeable facility that will allow residents to meet for clubs and other group activities, and spacious areas to work on their physical fitness. This area will be filled with treadmills, stationary bikes, and other types of high-performance equipment. It's going to be a fantastic option for those who need another area to work out.
Reflections will continue to grow in the weeks ahead, but in the meantime, you can already get a great idea of what the facility will be like once it's done! The team here at Brunswick Forest can't wait for the finished product, and we know you can't either. Be sure to keep your eyes peeled for more updates.