The Season of Giving: Local Causes at Brunswick Forest
November 23, 2020
ISWebmaster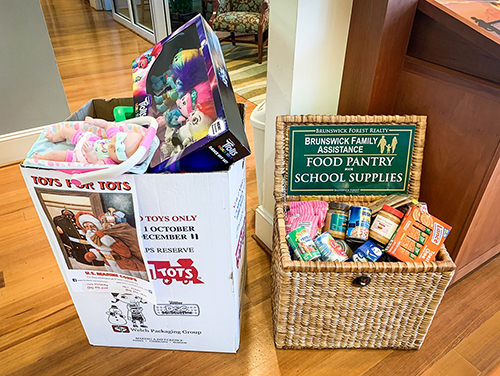 'Tis the season to make another heart full during the holidays! Depending on what holidays you celebrate, this time of year can mean a whole lot of different things. Some think of food, others think of family, but we at Brunswick Forest believe that what matters most is sharing generosity with those that need it most.
The holiday spirit is never lost on the team here at Brunswick Forest. Without our beloved local area, we would not be who we are today. Wilmington, Leland, Belville, and other surrounding towns are defined by a gorgeous natural environment that seems to attract so many genuine people. As a community, we're so proud to facilitate the generosity of our residents for two amazing charities: Toys for Tots and Brunswick Family Assistance.
Toys for Tots is an amazing organization spawned from the United States military! Major Bill Hendricks of the United States Marine Corps first began collecting gifts along with his fellow Marines just after WWII in 1947. Together, he and his friends gathered over 5,000 toys and began distributing them to needy children. In the Autumn of that same year, Bill's wife, Diane had handcrafted a Raggedy Ann doll and told her husband to give it to an organization that donated to children for Christmas. Bill searched high and low but told his wife that he ran into a bit of a problem: there was no such organization. His wife simply told him, "then why don't you start one?" That is exactly what Bill did, and since then Toys for Tots has gathered over 47.4 million toys (and counting) for children on Christmas morning. This year Brunswick Forest gets into the spirit by leaving a box out in the Welcome Center, and we highly encourage residents and visitors alike to donate a toy.
While Toys for Tots is known nationwide, Brunswick Family Assistance is a little bit more homegrown. Based out of Shallotte, North Carolina, Brunswick Family Assistance specializes in helping disenfranchised families in need throughout Brunswick County. Established in 1981, Brunswick Family Assistance has not let up on its mission, thanks to the generous folks of our local areas working together to spread cheer every holiday. From money donations to food and water, this is one organization that excels in giving families the essentials of a quality life when they cannot afford it. They even go out of their way to provide rentals and shelter assistance to homeless families who would otherwise have no place to go. In 2018 alone, Brunswick Family Assistance distributed over 300,000 pounds of food donations and provided over $50,000 to 214 households.
Regardless of which charity you wish to donate to this month, know that it is the effort that counts. The best gifts are ones that you share with others! Join us here at Brunswick Forest as we give back to those who need it.
Special thanks to:
Brunswick County Toys for Tots
Brunswick Family Assistance