The Pierre's Bay and Cooper's Bay At The Peninsula
February 28, 2023
ISWebmaster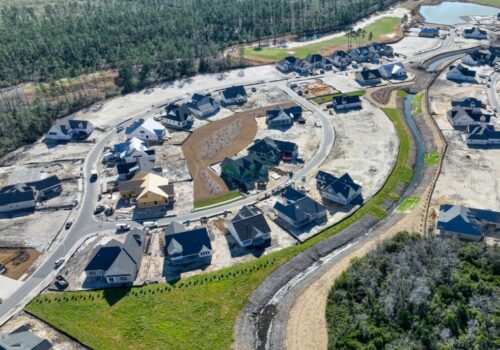 Paradise Redefined
Tall pines, water features, and luxurious homes all set against the backdrop of one of the most breathtaking golf courses in the Southeast. Sounds like a dream come true, doesn't it? The Peninsula at Cape Fear National is set to become one of the most exclusive neighborhoods in Brunswick Forest.
Construction is well underway in this gorgeous enclave of homes. However, two models are setting the tone for what's to come: The Pierre's Bay and The Cooper's Bay by Kent Homes.
Worth Looking Forward To
Golfers and non-golfers alike, can agree on the beauty, exclusivity, and appeal of living in a golf course neighborhood. The Peninsula at Cape Fear National will provide residents with unmatched privacy with the advantage of urban amenities and conveniences. It's been amazing to watch the literal building of a dream take place over several months.
Now, the neighborhood is quickly filling with spectacular homes. Premier building partner, Kent Homes has set the tone for quality homes you can expect in The Peninsula at Cape Fear National.
The Pierre's Bay (Coming Spring 2023)
Four Beds
Three Baths
Up to 2,610 square feet
Kent Homes brings you all the craftsmanship that is to be expected from a Guildmaster award-winning builder. The Pierre's Bay is a perfect representation of what aspiring residents can expect moving into The Peninsula at Cape Fear National. This floor plan provides flexibility with enough versatility to suit any lifestyle.
Home cooks are going to love this home's free-flowing kitchen that's easy for hosting guests, not to mention stainless-steel appliances. This home features rich details from the floor molding to the tray-style ceiling. The great room and dining area open up to a wonderful screened-in logia and patio. Prepare yourself for pristine views and plenty of natural light. The master bedroom is set back in a quiet section of the house and leads into a fantastic master bath with a spa-styled walk-in shower.
Also, this model comes with ample storage space. Choose to utilize the flex room as extra sleeping quarters or an office. The Pierre's Bay is a gorgeous home depicting why The Peninsula at Cape Fear National is so desired.

The Cooper's Bay (Coming Summer 2023)
Three beds
Three baths
Up to 2,499 square feet
Another amazing model by Kent Homes that is featured in The Peninsula is The Cooper's Bay. This home boasts a wide foyer, spacious great room, open kitchen and a screened-in logia out back. The kitchen is well-equipped with high-tech steel appliances.
Like The Pierre's Bay, The Cooper's Bay has a fortified master bedroom located towards the back of the home, creating a comfortable retreat. The master bath reveals stylish fixtures as well as a spa-style shower. This home also has a flex space to be used as you please.
Most homes in The Peninsula at Cape Fear National offer abundant space, style and a view.
More Opportunities Available
There are still a couple more opportunities to purchase a homesite in the Peninsula and build with one of our preferred builders such as Kent Homes! If you're interested in the two floorplans mentioned here, they are available to build on your homesite whether it's in the Peninsula or in another neighborhood within Brunswick Forest. Looking to tour completed models? Kent Homes has two that are completed and available to tour today. Both are located in the Lakes neighborhood and are available to build on your lot.
The Shelter Bay – Lakes Neighborhood
Three Beds
Two Baths
Up to 2,150 square feet
The Amelia Bay – Lakes Neighborhood
Three Beds
Three Baths
Up to 2,359 square feet
Keep Your Eyes Peeled
The Peninsula at Cape Fear National is going to be one of the finest golf course neighborhoods in the Southeast. Our team is so excited to see it all come to fruition! This is a vacation lifestyle that could be yours for the rest of your life! Keep your eyes peeled for more updates on this exclusive neighborhood on Brunswick Forest's social media. Or you can contact us at 833-497-1001.