The Future of Real Estate in the Suburbs
October 21, 2020
ISWebmaster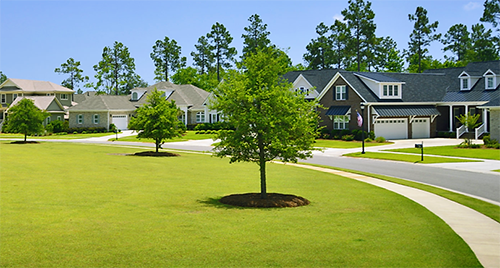 The suburbs (and urban areas in general) have become more coveted as 2020 goes on. Looking forward to 2021 and beyond, that trend does not look to be slowing down! More aspiring homeowners are looking to settle in open, suburban areas now more than ever. And many sources of legitimate real estate knowledge, like Forbes and the New York Times, have cited this trend as the new gold mine.
Here at Brunswick Forest, our real estate team and builders are already ahead of the curve. Being a sprawling suburban community with an ideal location, thousands of aspiring homeowners have already found their way home to us! Our community is filled with ample green space, room to start a family, and resources to retire with ease. As an aspiring homeowner yourself, what does this phenomenon mean to you? It means that another source is hinting at a major exodus to suburban areas like greater Wilmington, North Carolina. In other words: "Strike while the iron is hot," and there are still homes available. There is plenty of space to make your new dream life a reality, but there is no telling how long this will last for, especially while mortgage rates are so low.
While the future of real estate was thought to have been in jeopardy during the uncertainty earlier in the year due to COVID, elements of the industry are looking quite bright recently. The nature of the industry has changed in how business is done, how contact is made, and how home tours are done. But, one thing has not changed, and that is the yearning for a better life. People are tired of higher living expenses which makes master-planned communities like Brunswick Forest that much more desirable. Aspiring homeowners are beginning to see suburban areas as a major investment of their money and security of their future.
As the situation with COVID has forged a "new normal" today, real estate experts have seen certain needs in a dwelling evolve. People working from home means needing more open floor plans with extra space, such as room for a home office. Homeowners are tired of being packed into tighter areas and would prefer to live in larger areas with enjoyable green space. The recent pandemic has also caused a massive number of prospective buyers to question what is most important to them. For many, this might be spending more time outdoors in nature, spending time with a family pet, experiencing more local areas, or taking advantage of amenities that can better themselves.
As a result of all these factors, townhomes and single-family Homes have all become big commodities. Luckily for you, Brunswick Forest is more than ready to welcome you home to the life you deserve. With a vast offering of amenities, seven nearby beaches, a championship golf course, proximity to downtown Wilmington and 10 premier building partners, Brunswick Forest is the perfect fit for what the industry has been seeing. If being Coastal By Nature® seems like the missing piece to your lifestyle puzzle, then take travel down South and see what the fuss is about. Our real estate team cannot wait to meet you! Contact us at 855.983.9579 to learn about our Coastal Discovery Tours, view our Homes to Tour videos on Facebook, or visit us during one of our Fall Homecoming Weekends.