Tee Off Your Summer With 18: Golfing in Brunswick County
August 3, 2020
ISWebmaster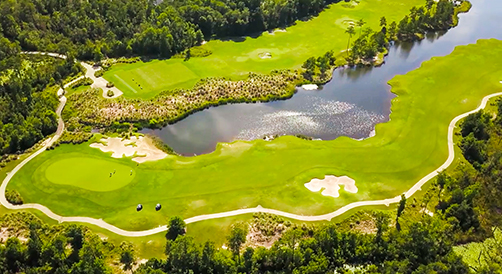 Fore! There is no better summer activity than playing nine or 18 holes of golf. Golf is a sport for all walks of life. Whether you're looking to compete, or just spend some time outdoors, golf is a top-ranking activity and highly sought after amenity for those near retirement.
Winding and twisting through beautiful natural areas, North Carolina is home to nearly 600 great courses. One of the best you can find north of Myrtle Beach is Cape Fear National here in Brunswick Forest. There are dozens of other courses nearby as well. Here are some great places to tee off at this summer in the greater Wilmington area.
Cape Fear National
Brunswick County and the areas surrounding Leland, North Carolina, have at least 39 fantastic golf courses for you to choose from. One of the best of which is right in the backyard of many residents at Brunswick Forest. Cape Fear National is a championship golf course designed by world class designer, Tim Cate. The course is equal parts challenging and beautiful, with holes surrounded by natural vegetation, cypress trees, and water features. Cape Fear National winds through the neighborhood of Cape Fear National and remains one of the five-star focal points of this amenity rich community. You also have the nearby clubhouse and restaurant, The Forest at Cape Fear National, that is a great spot to relax right on the course. There's also variety of gear that you can purchase at the pro shop if you are looking to add that special club you've always wanted to your set, or just want to purchase a few more balls to replace the ones that you've donated to the water hazards. You can practice your game at the driving range here or refine your short game at the putting green.  See for yourself why Cape Fear National is seen as a shining beacon for golf enthusiasts.
Olde Fort Golf Course
Located just south of Cape Fear National in Winnabow, North Carolina, lies Olde Fort Golf Course. It is a fun, 18-hole regulation course that is perfect for all types of golfers, no matter their skill level. Opened in 1989, Olde Fort was designed by Rayford Trask and presents a lot of unique holes that are good for shaving a few strokes off your game. There are also natural wetlands in the area that not only provides a lovely backdrop but also present some challenging hazards to play around.
Magnolia Greens
Literally just down the street from Brunswick Forest lies Magnolia Greens Golf Plantation. Known throughout Brunswick County and the greater Wilmington area as a fine place to play, Magnolia Greens provides a spectacular round of golf for all ages with up to 27-holes. Regardless if you are a seasoned golfer or looking to teach the next generation, you are bound to find a place here. A well-equipped clubhouse with a bar and grill awaits you after your game. With long green fairways, rolling hills and tricky marshes, Magnolia Greens has something for everyone.
Lockwood Folly
Situated right on the natural creeks and waterways of Brunswick County, Lockwood Folly is another popular course. The gorgeous setting is perfect for everything from golfing to weddings and will certainly leave you with a newfound appreciation for Southeastern North Carolina. Massive oaks, stately pines, and lovely flowers line each hole here. Each hole is challenging, and will no doubt teach you something new about what you need to refine your game on. An overall lovely place to play that is not very far away.
Golfing is a massive part of the identity that Southeastern North Carolina is known for. Brunswick Forest is without a doubt the golfers paradise for living near a championship course. There is plenty of places to enhance your game inside and nearby Brunswick Forest, and with the warm summer days ahead of us you could not ask for a better time to be outdoors.