Step into Fashionable Summer Wear: Shoe Center at The Villages
August 13, 2020
ISWebmaster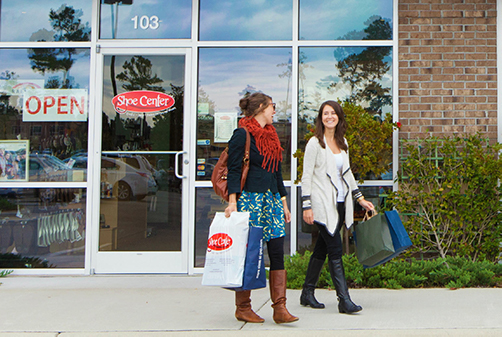 With over 40 years' worth of satisfied customers throughout Southeastern North Carolina, The Shoe Center is the place to shop for trendy footwear. With a wide variety of brands to choose from, The Shoe Center located in The Villages Town Center is a convenient way to update your wardrobe for summer weather. Here is a quick look at some of the products that are currently trending.
Shoes are a wardrobe accessory that we often take for granted. You cannot deny that a good pair of shoes can make a big impact on your comfort while out and about. The Shoe Center in The Villages has a large selection of all the major brands including Bass, Bella-Vita, Bussola, Onex, Nunn Bush, and Sperry. Regardless if you need shoes for a dance performance, strolling down the boardwalk, or just some shoes for your walking and running routine, you can count of The Shoe Center to have you covered.
According to Shoe Center's manager, Ginger Parnell, "There are three words that describe the current trend in footwear: Lightweight, minimalistic and supportive. Supportive footwear is most popular amongst our customers, and there is a current trend of merging comfortable, supportive footwear with fashion."
Here are some of the products you can find on hand for the summer:
Olukai For Women:
Form fitting and sleek but with open toed comfort, these sandals are perfect for hanging out around town or on the beach. If you are looking to walk with the top down on your toes, give this pair a try. "Olukai is our go-to brand for supportive "flip-flop" type footwear," says Ginger.
Hey Dude Comfort for Men:
Definitely a pair of shoes that fit the Coastal By Nature® atmosphere of Brunswick Forest, this pair of shoes emphasizes breathability and wearability. The perfect lounging shoe for any man looking to laze his summer days away on the coast.
ON Cloud Comfort for Men and Women:
Equal parts useable and comfortable, these shoes are called "ON Cloud" for a reason! They specialize in a snug fit that feels like you are not wearing anything at all, while still giving good tread for the path ahead.
These listed shoes comprise of only a small part of what The Shoe Center at the Villages Town Center has to offer you. You do not want to just look the part; it is about foot health and being comfortable no mater what adventures you go on. So, before you go to your next stop for summer fun, consider visiting The Shoe Center!