Solid Construction for Better Living: Spotlight on Decorative Shiplap
May 27, 2020
ISWebmaster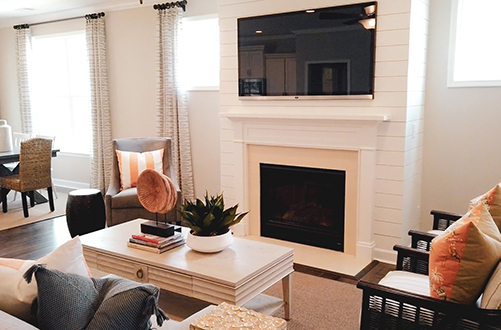 The modern homeowner is not just looking for a dream home that suits their lifestyle, they are also looking for something that easily stands the test of time. A home needs to retain structural integrity and withstand the elements while keeping an aesthetically pleasing appearance. Shiplap is one of the very popular materials used by the building partners at Brunswick Forest. It provides many advantages and can be seen in many neighborhoods here.
What is shiplap material, exactly? Simply put, shiplap is a wooden material that is used in the construction in many homes, both old and new. You can often see shiplap as paneling on the exterior of a home. In more recent times, shiplap is also popular for use as an interior finish to give a home a very natural and rustic feel. Each piece is created to have a finished texture to it and is often installed by having each individual plank overlap and join like the pieces of a puzzle. It looks amazing,  and allows a great feel to any floor plan. Pine, oak, and cedar are the most popular woods that shiplap is cut from. The real advantage the homeowner gets when using shiplap is a distinct craftsman feel to their living area.
Shiplap is hardy and yet versatile enough to be used in many different rooms of a home. You can often see them used in bathrooms, living spaces and even kitchen areas. If you are looking for a little color, shiplap can be easily painted in different hues. Shiplap is often seen in historic homes and has recently made a comeback. It is becoming more common to see decorative shiplap on modern homes. Though it has been around for quite a while, shiplap in today's construction is a beautiful take on an old favorite.
Some of the builders who partner with Brunswick Forest are known to use shiplap in their floor plans, such as Legacy Homes by Bill Clark, Bell Residential Company, Kent Homes and Mungo Homes. If you want to visit Brunswick Forest in the coming months, and are curious to how this amazing material can be used in different floor plans, contact the real estate team at 855.983.9579. If you're looking to take a digital tour of the homes available, you can also view Brunswick Forest's virtual tour videos right on their Homes to Tour Playlist on YouTube. Or, check out the gallery page at brunswickforest.com