Serve's Up! Tennis and Pickleball The Perfect Springtime Activities
April 7, 2021
ISWebmaster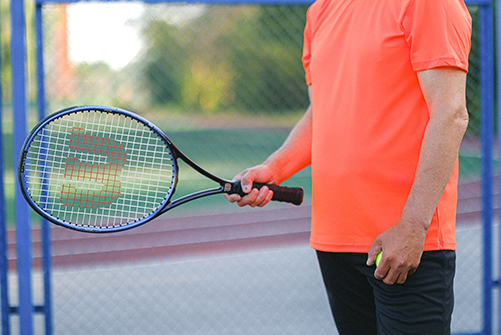 The greater Wilmington area is perfect for outdoor sports because the year-round mild temperatures here allow you to you get outside more often and stay active longer. Be it boating, swimming, walking, pickleball, cornhole, or golf, Brunswick Forest is perfect for that sort of lifestyle. Though not the only reason for moving to Brunswick Forest, an active lifestyle is here in our community and thus have many outdoor amenities tailored around that. One of the easiest ways to get up and get active is through two of our biggest amenities, tennis, and pickleball!
Tennis and pickleball are both similar activities, but there are a lot of elements that make them unique too. One thing is for certain, our residents have a great passion for playing both! Origins for the game have been traced to the 12th and 13th centuries, where it began in France as a kind of handball game called jeu de paume (literally "game of the palm"). Over time, players began to add other elements to the game, such as passing the ball back and forth with hand rackets. The sport then began to be known as "lawn tennis," and quickly spread to other countries like Great Britain. In Victorian England, tennis was played on grass courts (hence the name). Nowadays, tennis is played in a variety of different countries.
While not quite as old as tennis is, pickleball nevertheless has proven itself to be a real winner in terms of popularity. Pickleball has also really taken off at master-planned communities, as it is not only a healthy and fun way to stay active but also useful in meeting new friends. Pickleball was started back in 1965 by creators Bill Bell, Joel Pritchard, and Barney McCallum. There are many stories as to how the name was created too; Some believe it was named after their dog, "Pickle," and others say it was because the activity took a lot of elements from other games. Regardless of how it started, pickleball is enjoyed by thousands of active enthusiasts. Pickleball carries elements of sports like tennis, table tennis, and badminton.
Tennis and Pickleball have their unique qualities and are played in similar but different ways. Both involve using a racket-like object to pass a ball over the scoring net. The object is to get the opponent to miss it and have the ball hit the ground for a point. They are also both very easy to get into, enjoy, and bond over with friends and neighbors.
Brunswick Forest has 15 outdoor courts dedicated to pickleball and tennis here in our community. And for those who like pickleball, there are six indoor courts at the House of Pickleball over in The Villages Town Center. With rubberized floors and equipment rentals to get you started, the HOP, as residents call it, is ready to help you understand the game of pickleball a little bit better.
Many residents at Brunswick Forest enjoy these two activities because they have helped them find friends and neighbors that also enjoy playing. Our community has even been awarded in the past for being a top pickleball and tennis community by ideal-LIVING Magazine in 2011, 2015, 2016, 2017, 2019, and 2020! Whether you are a veteran at playing, or maybe just want to learn something fun, both tennis and pickleball are great to pick up and play.