Self-Love is Important When Living Your Best Life: Tranquil Touch Massage Therapy at Brunswick Forest
February 10, 2020
ISWebmaster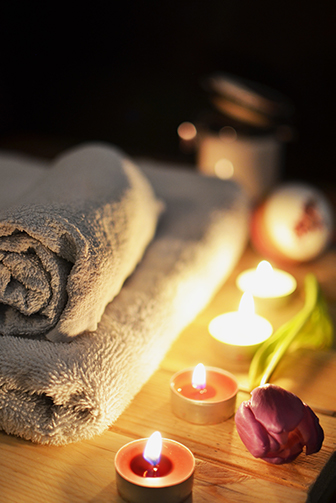 February is that special time of year where the word "love" will be on just about everybody's lips. Valentines Day is right around the corner and you might already be thinking about what to get that someone special. Candies, flowers, chocolates and cards will be flying off store shelves left and right. But don't forget, caring about yourself is important too! Everyone could use a little self-love this time of year. Brunswick Forest's Fitness and Wellness Center is the perfect place to not only relax but take care of your body and keep it in working condition.
Ellen Kornmeyer, head therapist at Tranquil Touch Massage Therapy, advocates for how important it is to differentiate the word "massage" between "spa" and "therapy": "Usually we like to divide the art of massage into two categories, including aesthetic and medical. Tranquil Touch Massage Therapy, here at the Fitness Center, is strictly a therapeutic and medical massage practice," she says. Her practice has been firmly established in Brunswick Forest for over 11 years now, but Ellen never gets tired of meeting new friendly faces. "As of right now we've worked with over 1,300 clients on record, all of them being exclusively residents, their families and registered guests. We like to see ourselves as a health and wellness benefit for residents, something that can be used to keep themselves enjoying an active lifestyle for longer."
The staff at Tranquil Touch Massage Therapy offer a multitude of professional therapeutic services, including pre and post procedure, pain management, soreness and just plain relaxation. "We're exclusively under contract with Brunswick Forest to provide their residents with an oasis of care, that they can make an appointment at anytime they need to. The unique thing about what we do, is that we personalize and customize each session to benefit exactly what the client needs. We'll even consider important points like personal medical history, to ensure you have exactly what you need to keep healthy."
If you're new to Brunswick Forest and have been busy moving into your new dream home in our community, then Tranquil Touch Massage Therapy even allows residents to get rid of any excess soreness from a strenuous move-in process. "I feel that our sessions are especially beneficial for those who may be tired from moving into a new home at Brunswick Forest, so the fact that we're so close by is a very big advantage for that crowd," Ellen says. Sales agents and brokers can also recommend potential residents visiting our neighborhoods via our Coastal Discovery Tour, who also get the option of trying out their therapeutic services for themselves. "It's important for us to know how the client feels on the day they show up for their appointment. Residents are free to use us in conjunction with any other medical therapy they are currently engaged in," Ellen continues.
Be it for playing pickleball at Brunswick Forest, or just needing something to alleviate those chronic aches, Tranquil Touch Massage Therapy is here to keep our residents living a healthy and active lifestyle. Ellen closes with her personal favorite part of her job: "The best part of what I do here, is getting to meet so many new faces. Being there to help them relax and gain medical therapy provides a very close bonding experience, so we end up becoming friendly with lots of clients. It is a very rewarding experience, especially when you get to work with residents who have been at Brunswick Forest since the beginning. It doesn't' matter if people want to play pickleball, take a fitness class or enjoy golfing, we can help keep you in shape. People love us and we love helping them."
If you feel that you could use a little self-love to keep yourself living your best life, then you want to head on over to the Fitness and Wellness Center to visit Ellen and her team of therapists. Having an actual medical massage practice close to your front door is an amazing advantage. Feel like Brunswick Forest has the community benefits that you've been searching for? Contact our team at: 855.983.9557