Fitness and Wellness Center Classes
May 31, 2019
ISWebmaster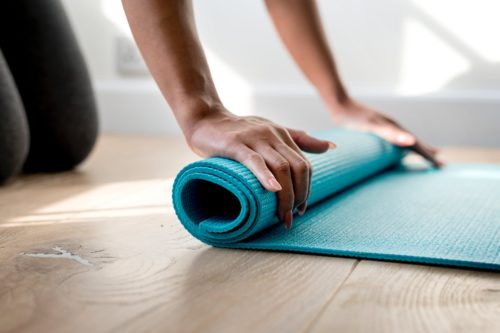 Being a Brunswick Forest resident means you are able to live a great life with easy access to engage in an active lifestyle. There's no shortage of trails, parks, kayaking spots and other great areas to enjoy a variety of activities. There's also the Fitness and Wellness Center at Brunswick Forest which has everything you need for your active lifestyle in one, well-equipped location. Whether you're looking to swim some laps, use the treadmill, or participate in some wellness programs, the Fitness and Wellness Center has something for everyone, seven days a week.
Our Fitness and Wellness Center is fully staffed to accommodate all our residents, but still allows for total independence. Residents can utilize exercise machines, an indoor pool, an outdoor pool, tennis courts, pickleball courts, aerobics studio and much more. It's 18,000 square-feet of healthful living. For those who find it easier to work-out with other people, you won't find a better place for group classes. Keep in mind that spots in these classes are limited, so you should register beforehand by calling the front desk at (910) 342-2215.
Staying healthy doesn't have to involve some sort of strenuous activity, as there's great value to be found in the gentle art of Yoga! Yoga Meditation is an excellent class that caters to all skill levels. Settle your mind and hone your breathing techniques. This class works to improve your focus, balance, circulation and even your sleeping patterns. All that's really required is a mat, and you'll be well on your way to feeling at peace.
If you don't mind working up a good sweat, one of the best ways to do so is with a good cardio class! Our Cardio & Strength training class is good for beginners and more advanced participants alike. This class is also geared towards the older-adult and focuses on non-impact training. Even if you're just starting to get into the exercise scene, this is a solid way to get yourself moving. Emphasis is placed on utilizing bodyweight, working your core and strengthening those glutes and thighs. This helps to tone and balance your entire body!
Lots of people swear by the benefits that Pilates can bring you. Pilates training focuses on your core by building strength in your lower back and abdominals. Good for participants who are intermediate to more advanced in skill, Pilates is the perfect class to keep you at the top of your fitness game.
Nothing get's your heart rate up like a little dancing. That's why so many find the art of Zumba such a fun and exhilarating activity. Based on the principles of Latin dance, Zumba is a super dynamic workout. All the routines feature aerobic training with a combination of fast and slow dance rhythms. Get into the groove as you trim your body down and tone it up with this excellent class!
Want to exercise outside? There are plenty of classes that are held in the outdoor pool too! Skill difficulty for these classes range from gentle, to full on military-style, boot camp classes. Aqua classes provide a versatile and unique environment to train in, while providing a variety of challenging routines to keep you in shape. Routines include Aqua Pump, Tabata and Aqua Zumba. Aqua pump is all about strength and making use of resistance equipment to develop your cardio endurance. Tabata focuses on a high-intensity routine that includes 20 second intervals of intense work, and 10 seconds of rest. Aqua Zumba is all the fun of our other Zumba classes, but with the added benefit of working out in solution. Less impact on your joints and added water resistance makes for optimal results.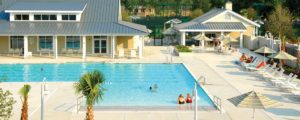 Health is a state of well-being that can include both mind and body. The Fitness and Wellness Center here at Brunswick Forest is designed to help our residents maintain both. The schedules of activities change monthly, so be sure to check out the Fitness and Wellness Center's website at: http://www.brunswickforestfitness.com/