Reeling in Some Great Flavor: Local Seafood
May 17, 2021
ISWebmaster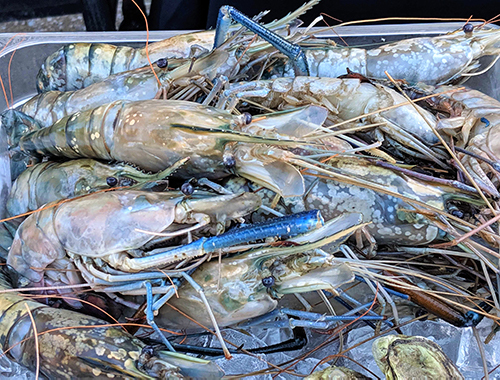 Fresh seafood is always a crowd-pleaser in Southeastern North Carolina. The major bodies of water that surround our area are vital for food and trade. Seafood in the greater Wilmington area has its own culture, with many delicious ways to prepare it.
Choosing to buy something local is important because it helps the local economy, not to mention. Farmers Markets are one way you can localize what you buy. The same can be said for local seafood. Establishments like Motts Channel Seafood in Wrightsville Beach or Seaview Crab Company near Belville, are perfect examples of markets that sell local sea fare. Other locations include Provision Company and Potter's Seafood in Southport, and Bowman's at the Beach in Carolina Beach. Brunswick Forest's own Chef Scott Euvrard says, "Using fresh local products in my opinion, helps the local community by providing jobs with a trickledown effect. Fishing boats can hire deckhands, the marina can hire dock workers, and the fishmonger can hire help in their store and keep prices competitive."
You can be confident in what you are getting because your seafood is sourced locally. From a culinary standpoint, if you have fresh ingredients, the results will speak for themselves after cooking it. Some of the most popular catches in our area include flounder, red drum, sheepshead, shrimp, oysters, black drum, bluefish, and black sea bass. Each one has its own flavor characteristics for cooking. One of the most famous styles of cooking seafood in North Carolina is to deep fry or pan fry it with flour and batter. This style of fried seafood originated in the town of Calabash, North Carolina. This is why it's known as "Calabash style." Chef Scott is also a big fan of this style, "Some of my favorite recipes to use with fresh local seafood are very easy, like calabash fried seafood. Shrimp, oysters, flounder, clams, and softshell crabs, all work for this application." Here are two mouthwatering recipes:
Calabash Shrimp:
The ingredients you need include:
Peanut oil, for frying
Two large eggs
One cup canned evaporated milk or whole milk
One cup self-rising flour
Half teaspoon salt, plus more to taste
Half teaspoon black pepper
Two pounds large or medium-size shrimp, peeled, deveined, and tails removed
Tartar sauce and cocktail sauce
First, you're going to pour the peanut oil to a depth of three inches in a deep fryer or deep, heavy pot. Heat the oil over medium-high heat until the temperature reaches 375°. You can adjust the heat as necessary to maintain the oil at that temperature throughout the frying process. Next, it's time to make the batter. Whisk together the eggs and milk in a shallow bowl. Then in a second shallow bowl, you're going to whisk together the flour, salt, and pepper. Working in batches, coat the shrimp you've gathered in the egg mixture, allowing any excess coating drip away. Then begin coating each shrimp lightly and evenly in the flour mixture.
Place the shrimp into the hot oil. Ensuring each one can float freely. Cook them until the crust is crisp and golden brown, two to three minutes, depending on the size of the shrimp. Transfer with a wire skimmer or slotted spoon to drain on paper towels or a brown paper bag. Sprinkle the piping hot shrimp with salt and serve at once with sauce on the side. Serve with tartar sauce and/or cocktail sauce, and you're ready to enjoy!
Pecan Crusted Flounder:
Few culinary items say "Southern culture" like pecans and flounder do, and this recipe brings them together in a delicious way. The ingredients include:
One cup finely chopped pecans (not ground)
One fourth cup unseasoned breadcrumbs
Two tablespoons lemon zest (about 3 lemons' worth)
Two eggs, slightly beaten
Two tablespoons whole milk
Four (6-ounce) fresh flounder fillets
One teaspoon salt
One teaspoon pepper
Two tablespoons olive oil
Two tablespoons butter
Lemon wedges
In a shallow bowl, mix pecans, breadcrumbs, and lemon zest together. Then in a separate shallow bowl, beat eggs and milk with a whisk or fork. Sprinkle both sides of the fish with salt and pepper. Coat the fish with your egg mixture, and then coat it well with the pecan mixture. You will be applying slight pressure to the fish while doing this. Next, heat oil and butter in a nonstick skillet over medium heat and then add the fish. Go ahead and cook the fish for two to three minutes per side, turning the fish carefully as you do so. Once the flounder is cooked, pour any remaining butter over it before serving. Serve with lemon wedges, and watch your friends and family enjoy.