Beachside Eats
September 6, 2019
ISWebmaster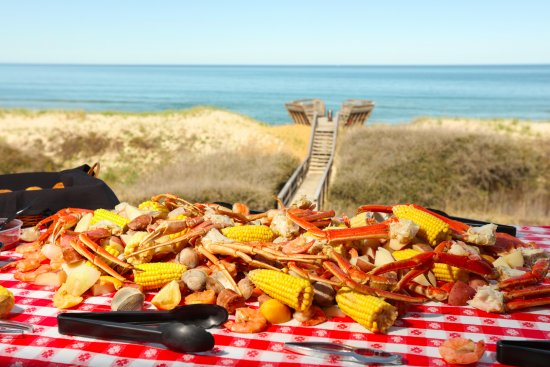 Food has become one of the major highlights in the greater Wilmington area for both residents and visitors. Diners can partake in some of the freshest seafood around, much of which is caught right off our shores! Next time you're out and about, take notice of some of these local hotspots and try them out for yourself.
Open 5pm – 9pm Tuesday – Saturday, 5pm – 8:30pm on Sunday
6220 East Oak Island Drive, Oak Island, NC 28465
Looking for casual dining and fresh seafood in a cozy atmosphere? You must try Oak Island's Turtle Island Restaurant. Turtle Island focuses on a laid-back atmosphere, complete with a lively bar and extensive seafood menu. You can also feast on other great sandwiches and dishes featuring pork, chicken and steak. Seafood lovers will enjoy their Calabash style fried seafood dishes including shrimp, clams and flounder. You can also enjoy fresh steamed seafood and a variety of appetizers. Turtle Island Seafood prides itself on using only choice, local products when available, making it a beloved establishment by locals for many years.
Open 11am – 9pm Monday -Sunday
130 Yacht Basin Drive, Southport, NC 28461
Established in 1993, The Provision Company has more than two decades of fine seafood offerings under its belt. Serving some of the freshest seafood in the Southport area, The Provision Company also offers pristine views of the Southport Yacht Basin. Grilled Yellowfin Tuna and season steamed shrimp are some of the many local favorites on this menu. There's outdoor patio seating as well as a great bar. If you're visiting the Southport area, there's no place better to enjoy great seafood.
Open 11am – 9pm, Monday – Sunday
1140 N Lake Blvd, Carolina Beach, NC 28428
You haven't experienced a true coastal dining atmosphere until you've tried a good seafood boil! A seafood boil is the tradition of adding fresh seafood like shrimp, crab legs and muscles to a pot and mixing it with corn, potatoes, andouille sausage and special seasonings. The pot is then steamed to create a unique taste experience. Unlike most typical beachside restaurants, Cape Fear Boil Company takes a unique approach to their dining experience. Rather than sitting down and eating, you can purchase at-home catering or one of their delicious seafood pots to go. This means that diners can maximize their valuable beach time while still enjoying some of the best seafood in Carolina Beach. That's why Carolina Beach natives call it, "The best pot on the beach!"
Oceanic
Open 11am – 10pm Monday – Wednesday, 11am -11pm Friday – Saturday and 10am – 10pm on Sunday
703 S. Lumina Ave, Wrightsville Beach NC, 28480
Oceanic offers a variety of seafood, while offering indoor and outdoor pier seating on Wrightsville Beach. From fresh seasonal fish to salads and appetizers, this establishment has it all. The menu at Oceanic also covers brunch, lunch and dinner options! Oceanic has been a long-standing staple for Wrightsville natives and summer visitors. Diners can also enjoy food outside in the open air, overlooking the Atlantic Ocean on Crystal Pier! Having recently been renovated, Oceanic proudly continues its legacy as one of the best places for high-end seafood in the area.
One of the best ways to experience local culture is through an area's cuisine. The greater Wilmington area has quickly established itself as a foodie paradise over the years. If you're planning to take advantage of any of the area's pristine shorelines and blue waters, then you'll want to keep these establishments in mind!