Plenty To Do with An Active Lifestyle: Resident Activities
August 16, 2021
ISWebmaster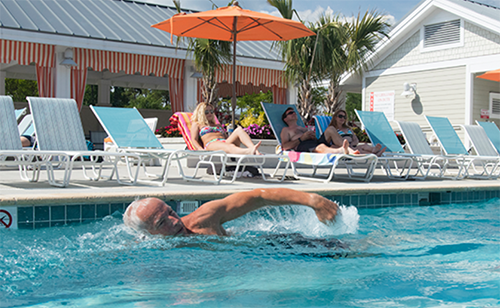 An active lifestyle means having a lot of options at your disposal. Even for someone looking to do something more casual and relaxing, most agree that the real advantage of master-planned communities is having a large list of amenities and activities to enjoy. Brunswick Forest's goal is to offer variety, convenience, and fun year-round. That's why our Fitness and Wellness Center at Brunswick Forest has a dedicated schedule of resident activities.
The new fitness and wellness director, Michele Cordaro, works hard alongside the rest of her team to make sure every resident at Brunswick Forest is provided for in terms of productive, and healthful activities. Some prefer to swim in our saltwater pools, others decide to take an aerobics class to keep themselves in shape, and others just like walking around the community or catching some live music performances. Regardless of what you're interested in, rest assured that the events calendar by the Fitness and Wellness Center has something to tickle your fancy. Here's a few examples of some of the events that residents can engage in.
Music By the Pool:
Summer is the time to get out and about in our local area. A warm breeze hitting your face, the sound of people having a great time outdoors, it's just a great feeling overall. And few places are better to spend your lazy Carolina summer days than by the saltwater pool over at The Fitness and Wellness Center. With plenty of areas to relax or swim laps, this is a great place to make your summer oasis. How about having some live music to go with your fun in the sun? The fitness center often has regular appearances by local music acts such as The Imitations and The Beehive Blondes. There's no need to sign up or reserve tickets for events like these! All you must do is swing on by the pool and start grooving.
Retirement Planning Presentations:
You've led an accomplished life filled with great achievements, family memories, and hard work. Now it's time for you to kick back and take it easy with a well-earned retirement. But where should you retire, and what should you do with your newfound time? Maybe you've just made a relocation to Brunswick Forest and want to know how to best organize your assets. Each seminar will cover frequently asked questions and important topics such as, "Will I run out of money in retirement," "Taxes," and "Carolina retirement."
Local Kayaking Outings:
If you've ever wanted to glide on the water past old cypress tree forests, swampy bogs, and local creeks or waterways, then kayaking is for you! Brunswick Forest prides itself on getting you close to all the action, so you don't even have to travel very far to find an adventure. Michele Cordero and her team always make sure there are at least a few of these planned on the calendar. Be it the Three Sisters Swamp, Black River, or nearby Town Creek, if paddling is your way of finding your happy place, Brunswick Forest has special outings to help get you there!
Every day is an opportunity to learn, grow, have fun, and embark on an adventure. Brunswick Forest does a lot of thinking for you, so you don't have to worry about which monthly activity you want to engage in next. Keep your eyes peeled for upcoming events for late August and September on The Fitness and Wellness Center Website. Or for further questions, you can contact us at 833-497-1001.