A New Chapter Begins: Michele Cordaro Is Your New Fitness Facilities Director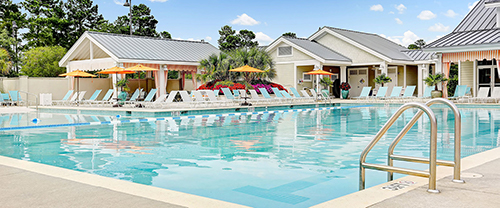 It takes an accomplished team to build a fantastic environment for your community residents. Brunswick Forest has several amazing real estate agents, event coordinators, and staff members. The friendly staff over in the Fitness and Wellness Center are also an important part of our team. Brunswick Forest is thrilled to congratulate our newest Fitness Facilities Director, Michele Cordaro.
Born and raised in Rochester, New York, Michele was first introduced to Wilmington, North Carolina, back in the early 1990s. The area appealed to her, and she realized quickly that Wilmington should be more than another vacation destination. "I thought to myself, why drive 800 miles to vacation here when we should be living here instead." Michele officially moved to Wilmington in 1996.
Having a passion for fitness, Michele first discovered Brunswick Forest through teaching at our Fitness and Wellness Center! "I originally saw an ad that was inquiring about instructors' positions, and I took it. I used to teach the Monday fitness classes at 6pm."
With her new position as Facilities Director, Michele is hoping to keep refining the skills she's already developed while working here. "I like the challenge this position provides me with. No one day is the same." Michele also loves interacting with all the residents here at Brunswick Forest. She looks forward to being their new ambassador for an active lifestyle.
But Michele isn't the only one who's advanced in their position this year! Not one to overlook the hard work of others, she's cited her coworkers Tiffany Singleton and Mike Santry for their accomplishments these past few months.
Born right here in Wilmington, North Carolina, Tiffany was originally the front desk receptionist in the Fitness and Wellness Center. Now, she has advanced to the position of Assistant Manager. "She's been my rock while I learn the ropes," Michele states. Having lived in Castle Hayne for 35 years, Tiffany knows the area well. She loves the beach town feel that Wilmington has; it's "home" to her. "Brunswick Forest has grown so much since I first started here in 2016," she tells us. She's also looking forward to all the new growth and loves meeting new faces. Tiffany encourages all Brunswick Forest residents to come and take advantage of their amenities for the summer.
Mike was once a fitness major over at UNCW. During his education, he also worked part time at the Fitness Center's front desk until finally becoming a personal trainer. Having seen his hard work and dedication, Michele recruited him to become a fitness instructor. Once she obtained her new position as Facilities Director, she offered to have Mike take her former position as Fitness Coordinator; He agreed.
In closing, Michele had this to say to our residents here at Brunswick Forest, "You've worked hard all your lives be it raising kids, working jobs, or caring for family. Now it's time to put all that energy towards your own passions!" Next time you're at the Fitness and Wellness Center, be sure to stop by and say hi to Michele, Mike, and Tiffany!