Low-Country Style and High Quality: The Plum Island II at Brunswick Forest
May 20, 2021
ISWebmaster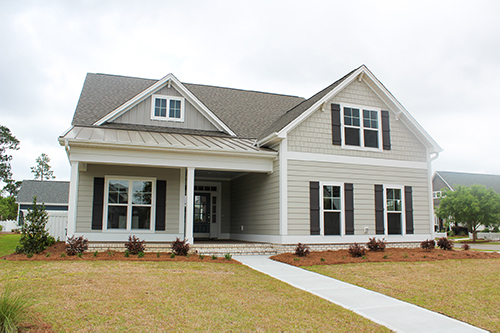 With a top notch stable of builders to choose from, our real estate team at Brunswick Forest has prided itself on providing you with only the best. Custom designed by the Trusst Builder Group, the Plum Island II is yet another splendid example of style and quality coming together as one.
Words that best describe this floorplan are spacious, flexible, and attractive. This home offers a wealth of great features. Featuring three beds and three baths, the Plum Island II is a gorgeous single-family home that will provide you with ample space to host visiting friends and family. This floor plan offers you up to 2,303 square feet of living space, making the Plum Island II perfect for day-to-day living while still possessing fine craftsmanship.
Recently, the Plum Island II located at 2044 Simmerman Way in the Shelmore neighborhood went under contract. Luckily, the Plum Island II is available to build on your homesite.
The Plum Island II offers a lot of exquisite features from a unique wood vaulted ceiling to granite countertops in the kitchen. The main living area has an attractive gas-powered hearth in the center of the room, adding for a luxurious touch. The living room also has custom built-in wooden shelving for elegant storage. Rich hardwood floors are found throughout the home's interior. Large windows allow for a sizeable amount of natural light.
The kitchen area is an inviting space, with a white tile backsplash for easy cleaning. Plenty of cabinet space means you'll never have trouble storing pots, pans, and pantry items. The ergonomics of this design is a perfect setup for any aspiring home chef.
Like many rooms in the Plum Island II, you will find that the master bedroom is also very spacious. The bathroom has an attractive walk-in shower with masterful tilework, and lots of cavernous closet space. In addition to all the desirable features of this home, the Plum Island II provides a finished room over its enormous two-car garage, perfect for a guest or office area. There's even a screened-in porch for those lazy nights sitting outside and enjoying the fresh air with friends.
The Plum Island II offers a lot of flexibility for any lifestyle. Interested in an option with lower maintenance? The Plum Island II is also offered as a townhome! The Plum Island II and the Linville, both by Trusst Builders are under construction in Tennyson Village! These homes are selling quickly, so don't wait if you're interested! As you look for your new home, this floorplan should be at the top of your list. Our Coastal Discovery Tours are a great way to spend personal time exploring our community and sampling which neighborhood or home is right for you, and are offered any time that suits your schedule. This masterpiece by Trusst Builder Group is not to be missed out on. Contact us at 833-497-1001 for more information.