Kicking Off a Great Season: Lowes Foods Has the Goods!
October 29, 2020
ISWebmaster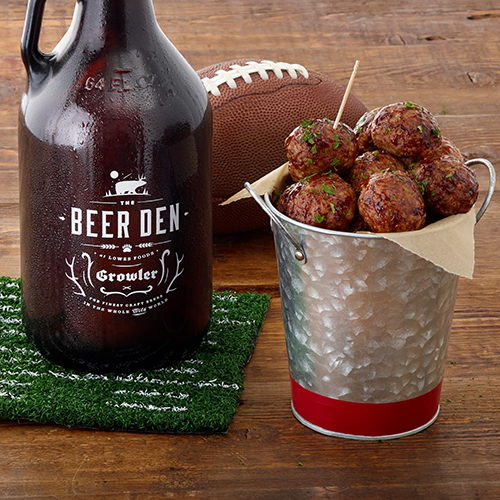 What sort of great events come to mind when you think of the Autumn season? There is cooler weather, leaves changing color, bonfires, Jack-o-lanterns, and football! For many, football is the best part of Fall. Especially when you have the snacks and beverages to accompany your game viewing experience. If you want a touchdown for stocking your pantry for the upcoming season, then look no further than Lowes Food in The Villages Town Center at Brunswick Forest!
From pretzels to beer, running dry on provisions is something no football fan should have to fear. Luckily, residents who choose to live in Brunswick Forest have quick access to all the food and drinks needed at The Villages Town Center. The Lowes Foods located here is always changing with the seasons, and that includes keeping its shelves packed with plenty of goodies for watching sports. Looking for something crunchy to put on your living room table? Try a bag of hard sourdough pretzels from Snyder's of Hanover, a delicious bag of Rolls Gold, or maybe something more spruced up such as flavored pretzel nuggets. Potato chips are always a staple for sports fanatics every time an important game is one television. Utz, Lays, Ruffles, and many more well-known brands of chips are available. Looking for a plain chip to put in a savory dip? Lowes Foods has it! Maybe you are looking for some spice in a chip that is great with salsa? They have that in stock as well! You will also have access to plenty of fresh dips to go with those chips close by, so you have the comfort of knowing everything is in one place. Lowe's Food is also known for carrying a variety of products from local farms, which means you get something delicious while putting your money back into the regional economy.
Looking for some frozen wings to throw in the oven? You will have a ball perusing the frozen aisle at Lowes Foods, because there are so many options for game-day treats it will make you want to call for the referee! Mozzarella sticks, taquitos, potato skins and so much more are all available here.
And what is rooting for your favorite team without a beverage to wash it all down with? Luckily for you, Lowes Foods has a unique little feature they like to call "The Beer Den." It is a beer drinkers paradise with tons of local brews to choose from and take home!
Do not forget that Lowes Foods is known for a lot of great meats and fresh vegetables for the backyard grill as well! You will find sausages, brats, steaks, ribs, corn on the cob and so much more from the local grocers here. It is the end zone for anyone looking to make game time something very special with friends and family.
Regardless of what you like to chow down on while watching the game, you can bet your next field goal that Lowes Foods in The Villages Town Center is ready to keep you stocked and ready. It is always fresh and never a hassle. Head down there soon to gear up for your next game day feast.