Welcome to The Den: The Beer Den at Lowes Foods in The Villages
December 4, 2019
ISWebmaster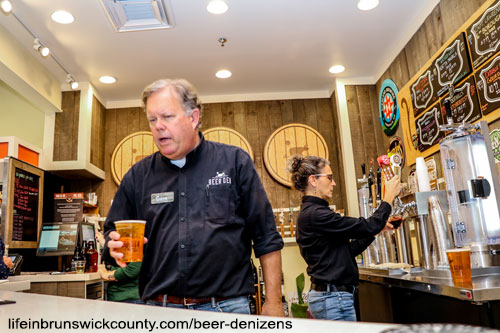 Brunswick Forest's very own town center, The Villages, provides easy access to the essentials you need for living a good life, in our Coastal By Nature® paradise. The Lowes Foods located at The Villages in Brunswick Forest, has everything you need within easy reach. This location is stocked frequently with fresh local produce, dairy, meat and other consumables that you need to fill your pantry with. If you're looking to furnish your fridge with some tasty brews, you don't have to drive all over town to find a fancy beer store. The beer den inside Lowes Foods will keep you satisfied.
Lowes Foods hours are 7am – 11pm Monday -Sunday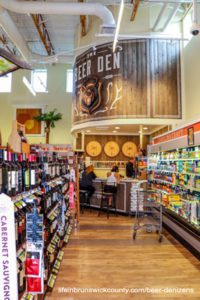 The beer den at Lowes Foods offers a wide selection of beers from all over the world, including many local craft brews from North Carolina. Right now you can find brews from Broomtail Brewery, which is located right in Wilmington. Fresh brews on tap also include options like Aloha Sculpin from Ballast Point Brewing, Moo-Hoo Chocolate Milk Stout from Terrapin Brewing, Highland Brewing Slow Crush, Gizmo Brew Works Queen Bee Imperial Honey Wheat and more! Like the taste of what's on tap? You can ask the bar tender at The Beer Den to fill up a Growler for you, so you can take it home. A Growler is a 32-ounce or 64-ounce jug that you can fill with your favorite brew, making it easy to take on the go. You can choose to purchase a Growler for around five dollars, or you can bring it back to the Beer Den and you will only be charged for the suds you'll enjoy.
The Beer Den is more than just another area to purchase craft beer or enjoy something on draft, it's a unique experience that can't be found in many other mainstream grocery markets. There are plenty of beers that you can find for the holiday season as well! There's Cold Mountain Ale from Highland Brewery; this includes a tap-takeover including three variants of Cold Mountain Ale, Rail Walk seasonal brew, Christmas Ale from Great Lakes Brewing Company and several other beers for the season. Be sure to take a short trip over to the Beer Den at Lowes Foods to wet your whistle with holiday cheer! Don't forget, if you're looking for a deal, the Lowes Foods Beer Den does half price beer on Thursdays. If you're looking to be a little social with your brews, you can download the app for Untappd and share what beers you are trying in the moment!
If you're thirsting for some of the best beer around, you don't even have to travel outside Brunswick Forest to do so. Residents at Brunswick Forest can satisfy their inner beer aficionado while remaining close to home.
Looking to learn more about Brunswick Forest and The Villages? Contact Us at: 855.983.9579