Interview With Resident John Dabrosca
December 27, 2021
ISWebmaster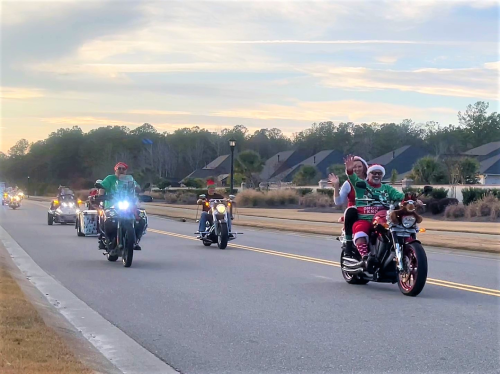 Being a community with thousands of residents from all walks of life, we're quite diverse here at Brunswick Forest. One reoccurring theme in our residents' stories is that they were all looking for a better life in a warmer climate. John Dabrosca, a founder of HOGS in the Forest, is one such resident.
What is HOGS in the Forest?
HOGS in the Forest are an enthusiasts' group at Brunswick Forest whose origins go back nine years ago. The acronym: "HOGS" actually stands for "Harley Owners Group." However, John and the rest of his bike-riding neighbors accept anyone into the group regardless of what kind of ride you have. Originally from the ocean state of Rhode Island, John's love of motorcycles goes back to when he was 13 years old. "I'm 73 now, and I can still wrangle that thing," he says.
Finding Paradise:
Once he retired, John decided to take more time to visit friends in other parts of the country. Specifically, he and his wife Nancy have friends in Florida that they often visited. They also had plenty of biker friends that would travel to the national bike week rally in Myrtle Beach, in South Carolina. "During this time, we started looking for a community for ourselves. We spent a lot of time riding through the Southeast back and forth, and we gradually grew to just love the area." We saw a sign that said "Brunswick Forest" on it, and we decided to explore inside. And we never looked back."
Brunswick Forest, according to John, is a great place to live. "There's always something to do if you're active. We have lots of friends here that have thought the same. We love the beach, the weather, and the whole nine yards," he says. He also mentioned that lower taxes make a big difference when you're retired. Outside of riding with his fellow bike enthusiasts, John also enjoys the year-round mild weather by playing golf and pickleball.
Born to Ride:
When it comes to HOGS in the Forest, there was an early motorcycle group started at Brunswick Forest before the Dabroscas moved in, but it didn't get very far. John and Nancy wanted to re-start the original group and turn it into a great place where fellow bike-loving neighbors could share their passions. Years after it was started, it's become a roaring success. "When we first started, we had just 12 members, but now we're up to 50 people. Most of them are all Brunswick Forest residents."
HOGS Giving Back:
Aside from riding together and chatting about their bikes, the HOGS are well-known throughout the Brunswick County locale for their annual donations to local charities and organizations like Brunswick Animal Shelter, Leland Family Ministries, and Toys for Tots. John is proud of all their yearly contributions to the local community but stressed that it's all about the group effort. "This year we've raised hundreds of pounds of food and canned goods for our charities. We're very grateful to all the generous people who donated to Brunswick Forest. It's very humbling," John emphasizes. "We're so blessed to live here, and we want to give back." The HOGS will usually set up collection boxes in the Brunswick Forest Fitness and Wellness Center. They're also known for their yearly Christmas parade, where John and his fellow bikers will ride all decked out for the holidays through each neighborhood. It's a well-loved and greatly anticipated event whenever it takes place. "People post pictures on Nextdoor, we had a drone following us taking different angles, and it was great!"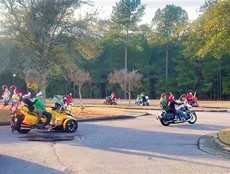 Charity is a big part of what John loves engaging with as a Brunswick Forest resident, along with the rest of his usual activities. As a longtime resident of our community, John concluded with this to say to others who might be interested in relocating, "Brunswick Forest is just a nice community, it's clean, safe, and there are so many activities you can do. There's a lot of great communities out there, but Brunswick Forest ranks at the top of that list!"