Interpersonal Connections at Brunswick Forest: Agents and Residents
January 22, 2020
ISWebmaster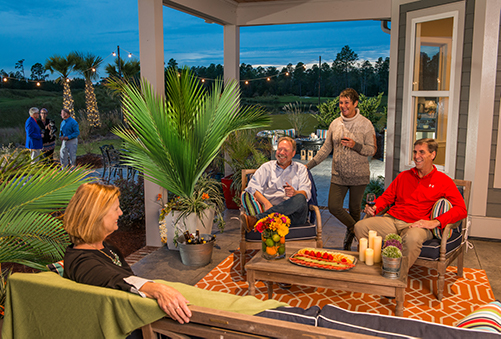 Brunswick Forest has been seen for years as the ultimate retirement, and relocation destination on the Southeast Carolina Coast. Residents at Brunswick Forest have the convenience of having top-notch amenities, medical care and shopping areas within easy reach. Our master-planned community is also only minutes away from historic downtown Wilmington, Leland and several pristine beaches; all of which can be enjoyed year-round. It's no wonder that so many residents have moved here from all over the country!
Aside from being breathtaking to look at, Brunswick Forest has a special appeal that you just won't find in other master-planned communities. That quality is the way our real estate team treats our residents with compassion and professionalism. The main goal of our agents is to provide a seamless and stress-free experience for anyone interested in building or buying a home. When you're here for a Coastal Discovery Tour you'll feel like you've stumbled into a vacation in paradise.
One of the special parts that makes Brunswick Forest stand out from the crowd, pertains to how residents bond with our agents. Agents have made many friendships from residents who started as clients. Kim Fanelli, Chris Dedrick, Denis Symington, Michael Braddock and many more of our experienced team members have been up and down the coast meeting people from all walks of life. Our team agrees that learning about someone's personal story and helping them in their exploratory phase of home buying is an incredible feeling.
Interpersonal relationships are what really stick with the residents here. Many agents will see our residents around town, at the Fitness and Wellness Center, at the Villages Town Center and other public areas. Some residents have gone to the extent of even inviting our staff to their homes on special occasions. When an agent works with a new client at Brunswick Forest, they're helping them make some of the biggest decisions in their life. Learning about what a new community can offer you takes a degree of trust. Because of this quality, many agents on staff have now evolved to become personal friends with our residents.
From participating in resident-sponsored activities, amenities and community functions, homeowners at Brunswick Forest are always forging new relationships with their neighbors. The real estate team at Brunswick Forest is looking forward to meeting plenty of new faces and hearing new personal stories in 2020. If you're curious about experiencing the Brunswick Forest way of life, feel free to contact the team at 855.983.9579. Ask about taking advantage of our Coastal Discovery Tour and be a part of something greater.