Indoor Amenities at Brunswick Forest
January 27, 2020
ISWebmaster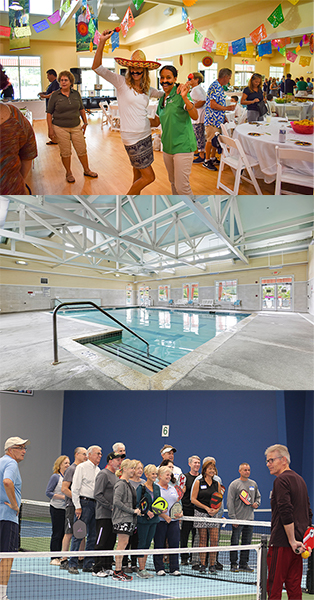 January might be thought of as the "dead of winter" in most areas of the country, but here on the Carolina coast, residents at Brunswick Forest can enjoy their community amenities year-round, thanks to the mild weather. When you want to switch it up from the outdoor lifestyle and immersing yourself with nature, residents in our master-planned community know that they also have plenty of indoor activities to enjoy too.
With over 10 different amenities, there's always an activity to enjoy when you live at Brunswick Forest. The fun is, quite literally, never very far from home. The Fitness and Wellness Center provides you with plenty of ways to keep yourself active and healthy, all in a fully staffed and comfortable indoor environment. Several different types of equipment are located inside this 18,000 square-foot facility, allowing for a myriad of ways to keep yourself occupied. There's an indoor pool, a spa, strength building equipment, cardio equipment and the best feature of all, being fully staffed for ultimate convenience. This way, residents can enjoy their independence while still being attended to. You'll find no better way to keep yourself active indoors for the new year!
If you've got that itch to play pickleball, you can always stop by The House of Pickleball at The Villages Town Center! Just because it's January doesn't mean you have to squander your love of outdoor activities. The House of Pickleball, or HOP as it's affectionately known, has everything you need to have a great time on the court with neighbors and friends. The six-court area indoors has a rubber floor that helps keep your joints comfortable and is also climate controlled. Daily play memberships are available, and many residents have formed incredible friendships with others as a result of their playtime. If you're looking for a year-round great time indoors, then get HOPpin' to the House of Pickleball!
Whether you're looking to catch the game with friends, cook out, or just have a relaxing time close to the rest of our amenities, the Community Commons is a great place to centralize your activity sessions. Located right next to The Fitness and Wellness Center, the Community Commons helps to further emphasize Brunswick Forest's dedication to community. This facility helps to bring all the neighborhoods of the community together in one spot where a variety of events can be held. Birthday parties, cook outs, club meetings and more are perfect activities to enjoy at the Community Commons. The main building of the Community Commons is sheltered and offers rich luxuries like a cedar-sided meeting room, stone crafted fireplace and even a kitchen! The kitchen area is especially useful for holding cooking meetings and witnessing culinary demonstrations.
Accessible via keycard pass, the fitness center and pool over by Hammock Lake is also a great place to gather during the winter months at Brunswick Forest. There's plenty of indoor space and room to hold club meetings and table-top activities. You can also make use of the cardio equipment that's in the main area of the center. If you're looking for a place to have a good time that's a little quieter than the main Fitness and Wellness Center, the Hammock Lake building near Shelmore is more than adequate.
Whether you're looking to play indoor pickleball, watch sports, shop at the Villages, work out or play poker, Brunswick Forest is well suited to giving you plenty of indoor amenities to enjoy all year long. It's especially convenient for this time of year. Does all this sound like the ideal lifestyle that you've always wanted? Contact us at: 855.983.9579