Splashing Fun at Hammock Pool
July 8, 2019
ISWebmaster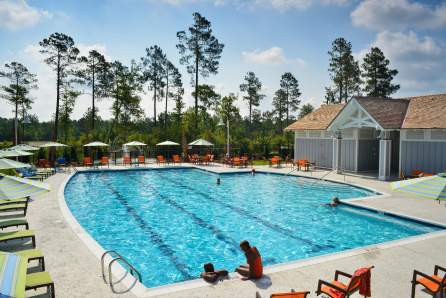 As a master-planned community that caters to all your lifestyle choices, Brunswick Forest offers you several areas to keep your cool when the summer sun gets hot! With our location settled in the heart of coastal North Carolina, there are plenty of pristine beaches where you can relax.
The year-round mild weather enables residents to enjoy a longer swimsuit season than most communities. As a result, you can take full advantage of the at the Fitness and Wellness Center! All residents at Brunswick Forest can enjoy this Olympic-sized swimming pool, and all the perks that come with it, such as the splash café snack bar!
Looking for a place to get wet in Brunswick Forest that's a little quieter? The pool near Hammock Lake is the place you'll want to go! Nestled in the Shelmore neighborhood, Hammock Pool offers plenty of space to enjoy your day under the summer sun. There's a splash pad for kid's featuring a multitude of festive fountains to frolic in. The pool itself is five feet deep and is open to all residents. Though not quite as large as the pool over at the Fitness Center, Hammock Pool is also saltwater and just as refreshing. Accessible by keycard holding residents only, Hammock Pool also has a fitness center of its very own. There's an expanded area that's chock full of exercise machines such as ellipticals, treadmills and other cardio equipment. Meeting rooms for resident sponsored activities are also available. The meeting rooms provide a great space for residents to enjoy fun activities like poker and other table/board games. Our residents create and enjoy a variety of entertainment both in and out of the pool. Overall, the more reclusive location of Hammock Pool and Fitness Center, has a more peaceful feel while still being centralized to one of Brunswick Forest most popular areas, Hammock Lake.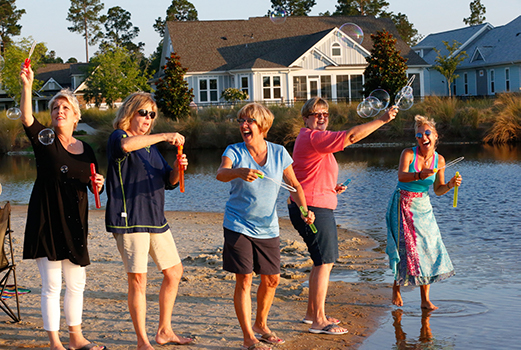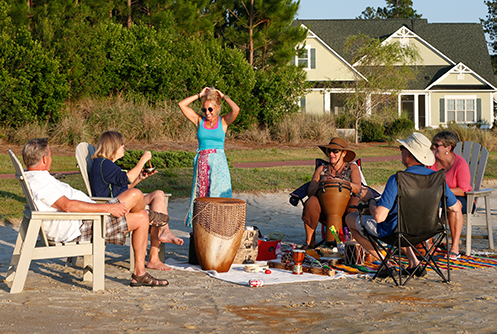 Hammock Lake offers a sparkling place for you to have some fun gliding on the water and enjoying the outdoors. Kayakers and paddleboarders rejoice! The lake even has its very own artificial beach, a place where you can break out the lounge chair and relax all day. Because it's a perfect place to meet with friends or fellow residents, there are several activities that take place on the beach as well. From leisurely kite-flying to a dance inducing drum circle, the beach at Hammock Lake can suit any vibe you bring!
When the sun gets high and hot, residents at Brunswick Forest know that they have plenty of places to cool down.