Honor Flight of the Cape Fear Area
April 28, 2023
ISWebmaster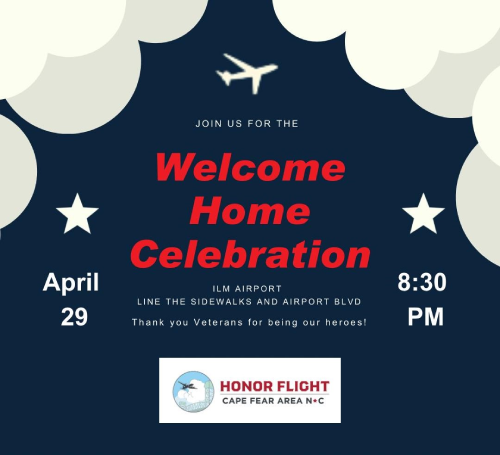 From the Azalea Festival to the Cardboard Regatta, life in Brunswick Forest is full of celebration! One of the most inspiring events for residents to enjoy is the Honor Flight of the Cape Fear Area. An annual tradition to recognize veterans of the World War II, Korean & Vietnam War eras, Honor Flight takes local veterans on an all-expenses-paid trip to Washington, DC to visit the memorials and monuments built in their honor and gives them a hero's welcome on their return to the Wilmington International Airport (ILM).
History of Honor Flight
The Honor Flight Network was created in 2005 to honor our nation's veterans. Participation in an Honor Flight trip gives veterans the opportunity to share this momentous occasion with other comrades, remember the fallen, and share their stories and experiences with other veterans. 
While initially focused on America's World War II veterans, the Honor Flight Network has expanded its mission to include those who served during the Korean War, the Vietnam War, and veterans of any service era who are critically ill. Transporting approximately 22,000 veterans annually, Honor Flight Network has flown nearly 275,000 veterans to Washington, D.C. since its inception.
You're Invited to Welcome Our Veterans Home
Whether or not you're a veteran–everyone is welcome to participate in this inspiring communal event to welcome home our veterans.
Volunteers, supporters, as well as the entire community are invited to welcome home our heroes of the Cape Fear at ILM on the evening of the 29th. For those joining at ILM, it's a tradition to bring American flags, or (even better) handmade banners and signs.
2023's Honor Flight Manifest
This year, the Honor Flight will bring 75 Veterans to Washington for their day of honor and 75 guardians: 3 WWII Veterans, 7 from the Korean era, and 65 Veterans that served during the Vietnam or Cold War eras. 
With 24 of its own vets participating, Brunswick County will be well represented! Even Brunswick Forest's very own, Beth Burgee, will be at the send off and welcome home ceremony! She will be there alongside a few other Brunswick Forest residents. Together they will be representing the Wilmington Daughters of the American Revolution (DAR) Stamp Defiance Chapter.
Directions
The charter flight is scheduled to arrive at ILM around 9:20am. But event organizers request that participants come to ILM around 8:30 because they're expecting a crowd. Make sure to bring a lawn chair (if you don't want to stand for extended periods of time) and snacks. There will definitely be some wait time between parking, flight landing, and the veterans parading out together. 
When you arrive, there will be directional signs, volunteers, and Sheriff's deputies assisting with traffic and flow. Find a place to stand (or sit!) and set up your most patriotic décor outside the terminal and along Airport Boulevard. Our veterans will be so glad to see you. 
Updated information on this year's Honor Flight will be posted on the nonprofit's social media platforms. Follow them on Facebook and/or Instagram.
Finally, for more information about special events for the Brunswick Forest Community give us a call at 866-832-1141 or make an appointment online.