HOGS in The Forest Donation Box
November 8, 2019
ISWebmaster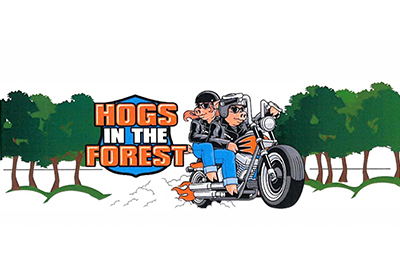 Now that November is finally here, residents of Brunswick Forest have already embraced the holiday spirit! As a community that values one another like family, residents and faculty alike will be doing their part in providing for the needy during the holiday season. Brunswick Forest supports several local charities every year, spreading warmth and compassion to those in our community that need it most. One of the local resident-sponsored groups that donates their time on a yearly basis is the HOGS in the Forest. HOGS, meaning "Harley Owners Group" is a group of Brunswick Forest residents who know all about giving back.
From bike parades, to charity parties, HOGS in the Forest have been a local source of inspiration for people inside and outside Brunswick Forest. They've brought smiles to so many people during the holidays, and they have no intent to break that streak. From Nov 8th – Dec 8th, the HOGS will be holding a food drive to benefit Manna Ministries of Leland, NC and Brunswick Animal Shelter. People will be able to donate a host of non-perishable items including food and supplies.
Local groups like Manna Ministries and Brunswick Animal shelter do their part in making sure that humans and animals alike are provided for in our local area. Food, water and other items are a massive part of the living necessities that not everyone has access to. Therefore, every single donation, no matter how small, counts towards the greater good. If you have a few dollars or items to spare, consider teaming up with the HOGS to make sure the members of our local communities have a comfortable holiday season.
Brunswick Forest values our neighbors and communities more than anything else. Being part of a community is being part of a family, and family always looks out for their own! Especially during the holidays! If you have any questions regarding the HOGS and their food drive, be sure to call them at (910)-523-5158.