Speaking With Atlantic Bay Mortgage
November 22, 2021
ISWebmaster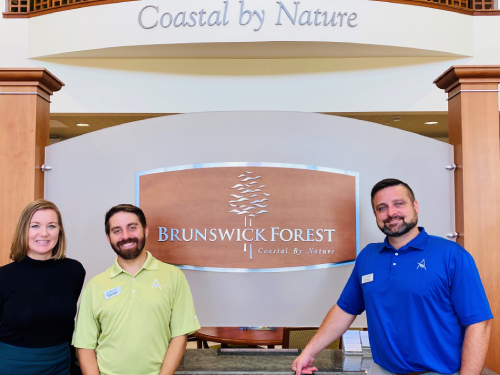 Success is often a team effort in real estate, where agents, builders and lenders come together as one to provide you with an exceptional home buying experience. At Brunswick Forest, we're blessed to know and work with incredible individuals to help provide aspiring homeowners with the best opportunity to obtain their dream homes. We're excited to announce one of our newest partnerships with the amazing team at Atlantic Bay Mortgage Group.
About the Team
Since our partnership with Atlantic Bay Mortgage Group, the team at Brunswick Forest has gained more invaluable allies in the quest to make your homebuying experience in our community something that you remember fondly. While a chief facilitator in this newly formed relationship, Business Development Coordinator, Eliza Delgado, is not one to focus on herself in this successful partnership. Her teammates at Atlantic Bay Mortgage Group, Brittany, Aaron, and Ryan, are key to making the buying process stress free. Here's a bit more about the team that we've been working alongside.
Born in beautiful Puerto Rico, Ryan is the son of a former Navy seaman. So frequent moving was not unknown to him. From his birth country, he moved to Mississippi, Alaska, Washington State, Texas, and then Rhode Island. While they always considered the ocean state home, the truth is he grew up everywhere and had a lot of memories to go along with that. Aaron and Brittany, have their own stories to tell. "I grew up a transplant to North Carolina. I grew up in South Bend, Indiana, and moved here after falling in love with the South," Brittany says. Aaron however is proud to be North Carolina born and raised!
Why Wilmington?
For Eliza and the entire Atlantic Bay Mortgage team, Wilmington has become the perfect place to settle down, and Brunswick Forest is the ideal community to make the most out of living in the Southeast. To quote Brittany on the matter, "Brunswick Forest offers some of the most diverse real estate opportunities in North Carolina. With a wealth of amenities, this coastal community is truly a perfect fit for all lifestyles. Our area attracts so many due to the abundance of different activities. From a day at the golf course to sunsets at the beach, there is truly so much to love about it." "We have so many amazing beaches, the weather is incredible, everything you need is just around the corner, there are so many outdoor activities for any age group to enjoy, our area continues to grow in so many great ways, the pace and vibe around here are like nowhere else," Aaron chimes in. And being an out-of-town transplant himself, Ryan feels he can speak directly to what makes the greater Wilmington zone so appealing. "The biggest factor was the weather, but the cost of living, culture, and wanting to raise a family were also factors in our decision."
Why Brunswick Forest?
In many ways, we've heard the same stories from a lot of our residents. Aspiring homeowners have come down to the coast to seek their slice of paradise, and the members of this team are no different. In addition to Wilmington and Leland, the Atlantic Bay Mortgage Group has come to respect what we at Brunswick Forest offer our residents. They feel connected to that experience themselves and are excited for their new partnership with us. "Brunswick Forest offers some of the most diverse real estate opportunities in North Carolina. With a wealth of amenities, this coastal community truly is a perfect fit for all lifestyles," Brittany says. Atlantic Bay Mortgage is excited to partner with a development that they feel shares the same values, helping to meet homeowner expectations and goals.
Creating Connections
"I look forward to creating new connections with the crew at Brunswick Forest. I've always enjoyed working with a team and being there for each other, so we all succeed in the long run," Aaron adds. Meanwhile, Ryan has a personal connection to our community and the local area. "My family and I have made Brunswick County and Leland our home. I love Leland and am excited to be able to take an active role in helping other families purchase here," he states. It's not just about buying a dream home; it's introducing you to a way of living that so many hold dear to them.
On the Fence About Moving?
Finally, if you feel you've been on the fence for a while about relocating, Atlantic Bay Mortgage Group has some advice for you! "As a transplant myself, the best advice I can give would be to come to visit the area. You're going to fall in love with our little piece of paradise," says Brittany. Aaron chimes in confidently, "Give me a call, by the end of our conversation, you'll want to be here too!" To echo his teammates, Ryan concludes with, "Brunswick County is one of the fastest-growing counties in the country right now. Brunswick Forest is peaceful and quiet, while only minutes away from downtown Wilmington and within 30 minutes from a multitude of beaches. You get the best of everything."
If you're looking to end 2021 or start 2022 in the home of your dreams at Brunswick Forest, come and decide for yourself if we're the neighborhood for you with our Coastal Discovery Package. Be sure to contact our real estate team here at 833-497-1001 if you have any questions about how to get started. Remember, if you're looking to move to Brunswick Forest, you can visit the Atlantic Bay Mortgage team over at our welcome center to get pre-approved!