Health is on the Way! The Villages Health Fair at Brunswick Forest
March 13, 2020
ISWebmaster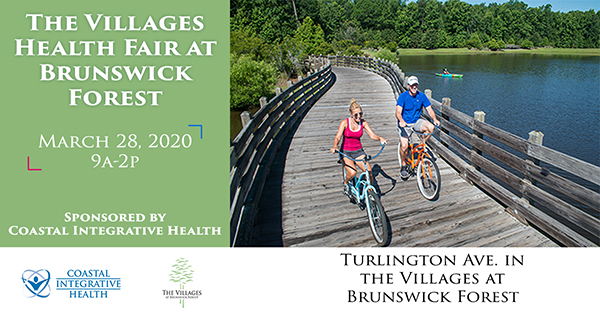 Villages Health Fair
March 28th
9am – 2pm
Turlington Avenue in The Villages Town Center at Brunswick Forest
Southeastern North Carolina offers plenty of great natural areas to enjoy. If you're looking to move to the area you want to be sure you can enjoy it to the fullest. The master-planned community at Brunswick Forest has a great opportunity to learn all about how to keep yourself healthy this March.
The Villages Town Center, located just down the street from the neighborhoods at Brunswick Forest, is hosting a great event that's free to attend for both residents and visitors of all ages! The big take away for the health fair is that Brunswick Forest residents and the public will able to visit booths set up by up to 20 vendors and health related services! This is especially useful for residents who have just moved to the area and are looking to know what options are nearby for keeping themselves in shape to live an active lifestyle. Some of the local businesses that you'll find at the upcoming fair include: Josh London of State Farm Insurance, Family Dog Naturals, The Joyce Irish Pub, Club Pilates, Wilmington Yoga, Elevate ILM Fitness, Coastal Dance Academy, Lit Nutrition, Liberty Senior Living and more!
One of our local businesses here at The Villages, Coastal Integrative Health, will be the main sponsor for this fantastic event. Headed by chiropractors, Dr. Paul M. Hrvol III, Dr. Brain S. Lank, and Dr. James Morosky, Coastal Integrative Health has celebrated a successful year of helping locals find their best selves through the use of innovative services like deep tissue laser therapy and spinal decompression at their new Villages location. Coastal Integrative Health is happy to help raise awareness about all the different locations you can utilize to ensure your life is a healthy one. You only have one body, so it's important to take good care of it!
We encourage everyone to stop by this health fair and learn about what you can do to make your stay in coastal paradise even better. It's sure to be very beneficial for everyone who wants the latest scoop on what will help them best take care of themselves. You never know, you might just learn something new to add to your routine! If you're looking to learn about this event, be sure to contact the Brunswick Forest team at: 855.983.9579