The Peninsula Almost SOLD OUT
December 1, 2021
ISWebmaster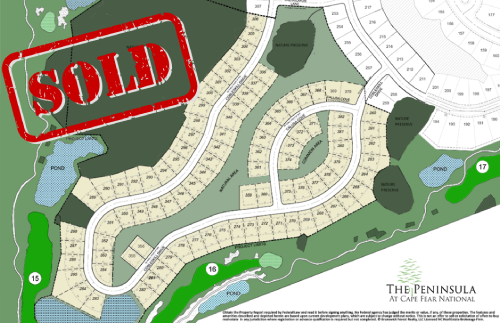 Golf course living appeals to more than just homebuyers who love the game; It's also a pristine opportunity to live in a more private setting, surrounded by gorgeous nature views, luxurious, and exclusive. The Peninsula at Cape Fear National, one of the newest expansions to Brunswick Forest, encapsulates those qualities perfectly. This is going to be a neighborhood that goes above and beyond in just about all aspects, and lots are quickly filling up! If living on one of the finest courses in Southeastern North Carolina, while enjoying an active lifestyle, is your idea of being Coastal By Nature®, then now is your chance.
Variety and Exclusivity
There's a lot one can say about The Peninsula at Cape Fear National, but the entire upcoming neighborhood can be summarized in one adjective: "exclusive." This is shaping up to be one of the best enclaves of homes that we have ever offered here at Brunswick Forest. Native landscapes will dot the area and offer generous green space between each home, giving them a statelier feel. With a variety of preferred builders including Logan Homes, Fogleman Homes, Bell Custom Homes, and Legacy Homes by Bill Clark, there will be plenty of floor plans to choose from. Country Style Cottages, Floridian Homes, and Farmhouse-style residences will all be common sights inside The Peninsula, showing off a level of craftsmanship that few other similar neighborhoods can beat. The neighborhood of Cape Fear National is already one of Brunswick Forest's most desired areas to live, so if you like the aesthetic there, you're going to love The Peninsula!
Reserve Now
Simply put, this is golf course living taken one step beyond what you're used to, and because of that, our team has seen an amazing uptake in lot reservations! At just 94 available slots in total, more than half of these have already gone under reservation. The window of availability is shrinking, so if you're looking to live in The Peninsula, you may want to act quickly. Start the new year with the exciting anticipation of premier golf course living.
Nestled between three beautiful holes on Cape Fear National, and beset by ponds, parks, and nature preserves, The Peninsula is shaping up to be an oasis that many will be envious of. You can get a feel for The Peninsula at Cape Fear National by visiting our master-planned community with Brunswick Forest's Coastal Discovery Tour. You can visit our website for more information or contact our knowledgeable team of agents at 833-497-1001.