Flip Through Pages of Paradise: Brunswick Forest's Digital Home Showcase
April 17, 2020
ISWebmaster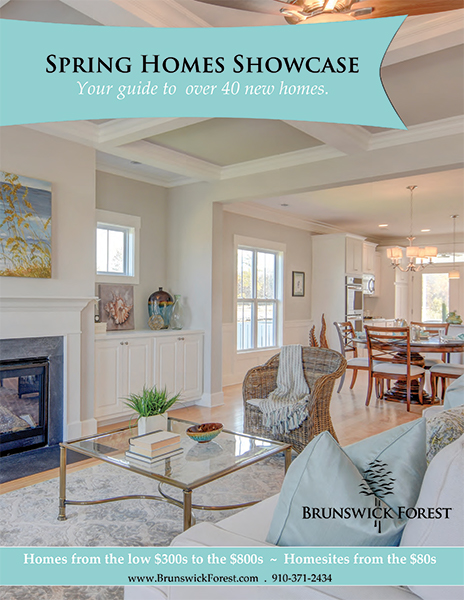 No matter the time of year, Brunswick Forest remains one of the most desirable places to live on the East coast. It has a central location that's close by to shopping, dining and medical services. And, you're sure to find your dream home amongst the variety of homes built by 11 preferred builders. Now, Brunswick Forest also offers you the convenience of virtually touring homes.
There's no time like the present to begin planning a future tour of the neighborhoods at Brunswick Forest. Whether there's a certain style of home you're looking for, or you're interested in how a floor plan can accommodate all your needs, the team at Brunswick Forest goes one step beyond to give you a cover to cover experience… literally. While we are all at home for the time being, there is still a great alternative way to experience the homes at Brunswick Forest. Enter, the Brunswick Forest Spring Homes Showcase! The Spring Homes Showcase is like a private Parade of Homes all to yourself. Here, you can spend hours browsing over 40 different types of home.
Until you're able to tour in person, the real estate team at Brunswick Forest makes things easy for you! This digital flip book will have you turning each page in earnest, as available homes will be listed by neighborhood, floor plan, builder, name and price point. Each home entry comes with a commentary floor plan blueprint underneath the picture of said home. Important information entries also include total square-footage, how many bedrooms and bathrooms there are, address and lot number where the home is located. It's the perfect way to spend your time browsing homes and not having to search for the details. Here, you'll have them all in one convenient place.
From the Logan exclusive Banyan Bay neighborhood, to the front porch aesthetic of Shelmore, this Spring Homes Showcase can give you a resident's-eye view. Look at what life in a West Indies inspired home would be like inside The Lakes, or peek at the newest additions to Egret Cove. It's all possible right from your computer, tablet or smartphone screen. Some homes in the book will even have links where you can view a preview video of said model. Find the latest version of The Spring Homes Showcase HERE.
All the homes you want with all the details you need. Let the real estate team at Brunswick Forest help bring these homes to life for you. For more home viewing content, be sure to visit the Brunswick Forest Facebook page.