Experience Coastal Living in the Moment: Why Community Events are Valuable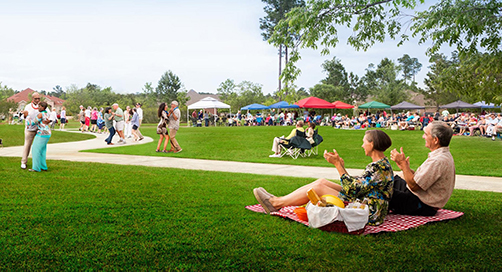 We offer two great ways to experience what life would be like if you chose to move to Brunswick Forest: Our Coastal Discovery Tours and our Coastal Home Showcase weekends. Both offer significant value to your research, experience and are easy on your wallet!
For those looking for a quiet, intimate researching expedition, our Coastal Discovery Tour may be the best fit. This is a great option to explore Brunswick Forest and surrounding areas at your schedule and pace. However, if you want a more structured and social experience, our Community Showcase Weekends are for you.
Coastal Homes Showcase Weekends have a set itinerary for each day and take place from Friday to Sunday. Fun activities can include kayaking, stand-up paddleboarding, pickleball, golf, bike rentals, and cooking demonstrations! Of course, a lot of the fun and learning happen during breakfast, lunch, dinner, and happy hour gatherings. Food, drinks, and live music events are usually co-hosted by some of our amazing builder partners in their model homes, our Welcome Center, or the Forest Restaurant at the Cape Fear National clubhouse.
Throughout the weekend, you'll undoubtedly want to explore our many neighborhoods and tour homes by our preferred building partners. To keep track of your tours, you will have your own "Brunswick Forest Passport". With the wide variety, we offer here at Brunswick Forest, you can rest assured that you won't leave without all of your questions answered that you might have about the community or even an individual floor plan.
There will also be time to explore the surrounding areas (such as historic downtown Wilmington or Southport) and even get exclusive access to our amenities. Perhaps most important of all, is how our community events offer you the opportunity to interact with real Brunswick Forest residents. Every resident at Brunswick Forest has a story like your own about how they have chosen the Coastal by Nature® lifestyle.