Elegance and Usability: The Caroline The Eleanor & The Florence Model Homes
March 31, 2021
ISWebmaster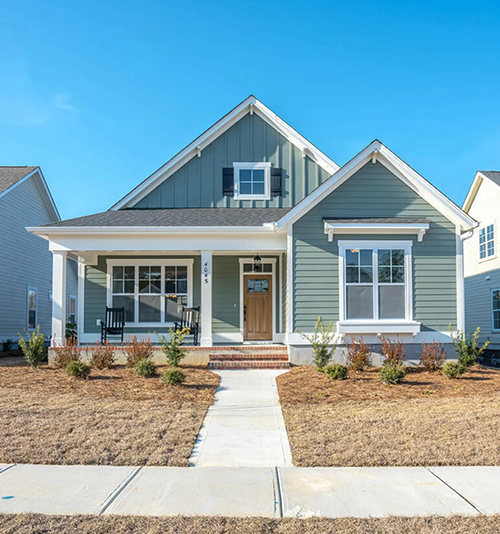 With the quality of home models that our building partner, Legacy Homes by Bill Clark is known for, there are many things for an aspiring homeowner to fall in love with. Three excellent homes that will catch your eye more than any spring bouquet are The Caroline, The Eleanor, and The Florence. All three are outstanding homes with beauty and functionality, located in the same neighborhood of Spring Branch at Shelmore. All three homes are a unique focus for our end-of-March triple home feature.
The Caroline is best described by one word: "elegant." Bursting with sun-filled spaces and a lot of room to live in, The Caroline is one model that deserves a closer, in-person inspection. The key here is experiencing a home that is more like a private retreat. All three of these models' bedrooms are located towards the front of the home for easy accessibility. The Caroline has plenty of luxury features that any modern homebuyer is looking for. You have a sizeable kitchen with all the necessary appliances, a living room with boundless charm, and perhaps one of the most interesting features of this model, a large master bath that would make most private spas jealous. A truly gorgeous home that will make you feel right at home at Spring Branch.
Here are some more details regarding The Caroline:
Located at 4045 Staffordale Drive in the Spring Branch neighborhood.
Three bedrooms
Two baths
1544 sq ft
MLS # 100242551
Right across from The Florence and close to The Caroline model, is The Eleanor. It might be a smaller floorplan, but luxurious features are one thing that this model home is not lacking! With its petite stature, it has a shockingly spacious feel. This home has a big kitchen complete with an oversized pantry for optimal easy storage, a rich granite countertop island, stainless steel appliances and an attractive tile backsplash for the finishing touch. A brilliant fireplace centers the main living room area, while there is an informal dining room that allows for sizeable entertainment with an intimate feel.
The Eleanor is the kind of home you would want to come home to after a worthwhile day of relaxing around the greater Wilmington area. This floor plan invites you in with a lot of heart and warmth making it a very attractive and well-equipped home in a smaller size.
Here are some additional details regarding The Eleanor:
Three bedrooms
Tree Bathrooms
1,950 square feet of space
Located at 4041 Staffordale Drive in the Spring Branch neighborhood
MLS # 100231340
The Florence is a floor plan as charming as its namesake. Love to cook? You will find the oversized gourmet kitchen to be a real asset both in aesthetics and usefulness. The main living space is also open and spacious to accommodate several guests. There are plenty of options for custom built-ins. The Florence floor plan also allows for large windows, so there is an abundance of natural light to look forward to and further elevate the mood of this home. Be it for entertaining or having a little extra space for yourself, The Florence will not disappoint you if you choose to build it. While there is currently not an available model to tour, The Florence can still be built on your lot!
When it comes to quality, there is a lot to love about these amazing homes in Brunswick Forest. They are a perfect fit no matter what your ideal lifestyle may be. Why not take a more in-depth look at what they offer. You might just end up finding your dream home on the coast! Find out more information by contacting our real estate team at 833-497-1001