Easy Holiday Shopping with The Villages
December 16, 2022
ISWebmaster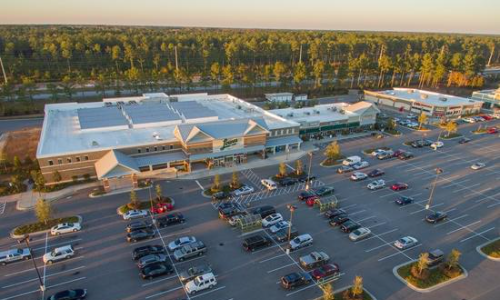 Christmas Time is Here
It's Christmas time in greater Wilmington and residents are busy checking the boxes of gift ideas on their lists! If you're a resident of Brunswick Forest, however, there's no reason to worry when December 25th rolls around; The Villages Town Center has everything you need for last-minute shopping ideas close to home!
The Villages Makes Shopping Easy
Holiday shopping is a joyous occasion! However, it can be stressful if you tend to be a last-minute shopper. These days websites like Amazon may sound most convenient, but this time of year, even the mail can be slowed down. It's likely you can't purchase a gift quicker online than you could driving down the road. Here's how holiday shopping is made easier in The Villages Town Center.
Lowes Foods
With several aisles of fresh fruit, meats, chips, drinks, and even a beer den, Lowes Foods in The Villages Town Center is the ideal "Last-minute Christmas party hosting!" location for trays and platters. Everything you need to complete the ideal Christmas gathering is within easy reach! If you're looking to bring a little something special to your holiday gathering, the beer den is stocked with of some of the best brews around. There's no need to rush around or shop anywhere else!
Plenty of Gift Card Opportunities
While it may seem like a simple item, a gift card is a fantastic gift for the holidays! The Villages Town Center is full of great restaurants and shops you can purchase gift cards from. Here are just a few of them:
A gift certificate to any one of these locations makes for a great stocking stuffer! Whether the person/persons on your list are a pickleball fan, loves a dinner outing, or maybe wants to try out the new brewhouse, you can't go wrong with any of these choices!
Pets Don't Get Left Out of Gifting
Pet lovers know we can't leave out our four-legged family members during the holidays! Family Dog Naturals has the best pet treats and supplies on this side of the Cape Fear River. Family Dog Naturals is a pet shop run by pet lovers, so you can feel good about the gift you give that special furry friend in your life. Pets never get left off the gift list here at Brunswick Forest!

Convenience At Its Finest
Part of the advantage of having a town center minutes from your home is unmatched convenience. It allows you to spend less time running around town, and a greater opportunity to enjoy the upcoming holidays. If you need a last-minute gift idea, head on over to the Villages Town Center!