DISCOVER AREA FOOD TRUCKS THIS SUMMER
June 7, 2016
Brunswick Forest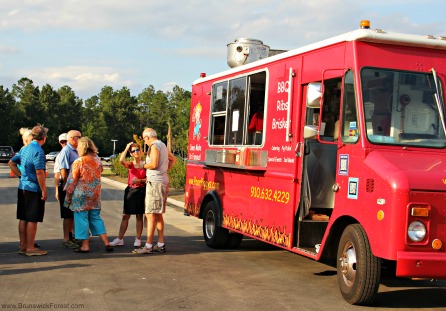 Brunswick Forest residents are lucky to live in an area that is growing by leaps and bounds and, along with all the influx of new residents, the Wilmington area is seeing major growth in its dining options. This includes a number of new food trucks which service local breweries, businesses and schools among other locations. Check out these local food trucks this summer to experience all the innovative cuisine that the Wilmington area has to offer!
POOR PIGGY'S
Poor Piggy's has a number of BBQ food trucks which service the Wilmington area and are a staple at Brunswick Forest events, including last week's Brunswick Forest Cardboard Boat Regatta and Sun Fun Festival.
CATCH THE FOOD TRUCK
James Beard-nominated chef, Keith Rhodes, is owner and executive chef at Catch Wilmington and opened a food truck under the same name a few years ago. Catch the Food Truck is one of Wilmington's most popular mobile eateries and serves up delicious fish tacos and sliders.
BIG RED FOOD TRUCK
Located less than a mile from the entrance to Brunswick Forest, the Big Red Food Truck operates at Willoughbys Bar in Leland. The Big Red Food Truck has a rotating menu of classic American-fare favorites.
WILD GOAT FOOD TRUCK
The Wild Goat Food Truck frequents Wilmington's many breweries and bottle shops like Palate, Fermental, and Waterline Brewing. Wild Goat specializes in menu items featuring bread freshly-baked in a waffle iron.
DUB'S DONUTS
Just this past winter, Dub's Donuts opened up shop, serving delicious donuts with a creative flare. Dub's Donuts is the invention of the operators of the P.T.'s Old Fashioned Grilled mobile unit and is a staple in downtown Wilmington at the Cape Fear Community College and PPD campuses.
888.341.2434
www.BrunswickForest.com