True Homes Design Studio in Brunswick Forest's Village Town Center
November 29, 2019
ISWebmaster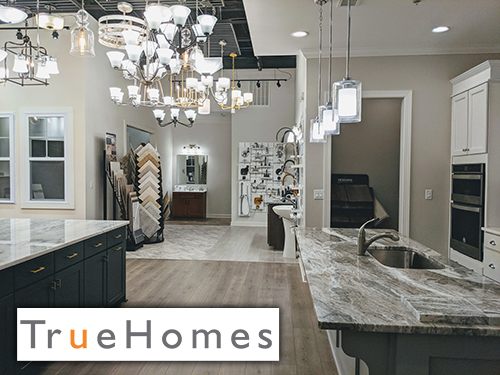 Saving up and building your dream home is one the biggest investments you will ever make. Like a tailored piece of clothing, the personalized details can be the breaking point for many potential home buyers. True Homes excels in meeting all these standards, and ensures the experience is enjoyable for homebuyers. As one of the 13 building partners here at Brunswick Forest, True Homes has everything potential homebuyers could ask for. Their new design studio, located at The Villages Town Center, displays an array of furnishing options that must be seen in person!
True Homes has long been a bright example in homebuilding quality, style and customization in the Carolinas. They know that each buyer is unique in their wants and needs, so True Homes molds their design experience accordingly. There's no need to be reserved when you choose to visit the True Homes Design Studio in The Villages, because they offer you the chance to take the lead and unleash your inner guru. Consultants will be there to greet you with a smile, and genuinely guide you through each step of the home personalization process.
Potential homeowners can take solace knowing they can create their own custom look or choose from their pre-designed "packages."  Either way, they offer a variety of materials and looks for your home's interior as well as exterior. As True Homes puts it, they want to make the experience "all about U!" Anna Brown, the head designer of the True Homes design studio, explains the philosophy behind the builder, "True Homes is all about making potential home buyers feel welcome and like they're part of our family. In the design studio, we focus on a low-pressure buying environment, where people can instead feel free to stretch their wings, so to speak, and see everything we have to offer. In fact, that's the part about our True Homes experience that I value so highly. I enjoy providing visitors to the design studio free reign to see everything that we have to offer."
Anna Brown explains how the True Homes Design Studio in The Villages has been open since June of 2019 and is in the process of expanding even further. "With all the new space we have compared to our older showroom, we are constantly updating all of our wares to reflect only the latest trends in homebuilding." Anna states that the design studio is a massive asset to the Villages Town Center and Brunswick Forest, because it helps to keep everything close together for potential homebuyers looking to build a residence. "Visitors to our design studio love how everything is in one area. Community convenience is really important to a lot of residents moving to Brunswick Forest. The studio also brings in a lot of visitors to the restaurants and retailers of the Villages," she exclaims. By far, Anna's favorite part about what the True Homes Design Studio offers is that she helped to design it all! Her contributions have led to a welcoming environment where she can enjoy watching visitors really unleash their inner designer. "I get to be here for them and give all the guidance they need to make a decision, and I love helping with that," she concludes.
From kitchens, sinks, living areas, exterior trim, tiles, wood flooring, bathrooms and so much more, the True Homes Design Studio has your dream home needs covered, from floor to ceiling! Their dedication to making clients feel like family is why Brunswick Forest is proud to have them as one of our 13 building partners.
Call us today to learn about building your forever home at Brunswick Forest: 855.983.9579