Customize your Way of Living to its Best: Our Custom-Building Partners at Brunswick Forest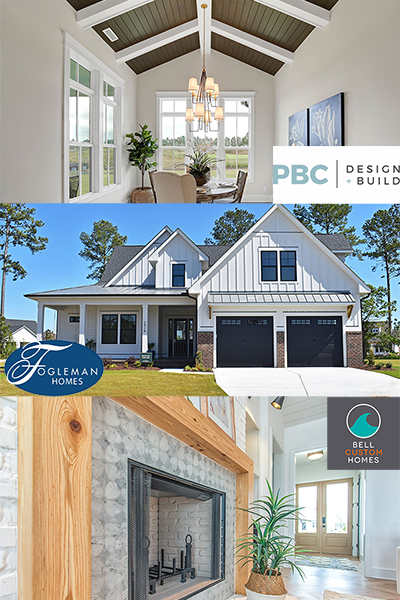 Choosing the way you want to live is a very powerful commodity to have, especially when you have decided on where you want to spend your golden years. There is a lot of choice in today's communities, but which one is going to cater to your needs properly? To give buyers the power of choice, you need to provide ample home options to choose from. Brunswick Forest partners with the some of the finest builders in the Southeast, including Fogleman Associates, Bell Custom Homes, and PBC Design & Build.
Quality craftsmanship and satisfied customers are two things that the professionals of Fogleman Associates do extraordinarily well. As a trusted building partner of Brunswick Forest, they always go out of their way to provide aspiring homeowners with plenty of floorplan choices. For them it is not just about providing more value per square-foot, it is about building a home people can be proud to live in. Clients are provided with a home that will last long and look great. Some of the floorplans that they have built include stunning examples like The Jarrett Bay, The Bimini Bay and The Spencer II.
Bell Custom Homes believes that quality and building a client-centered experience are of the utmost importance. The Bell Custom Home team will always do their best to walk you through the homebuilding process, giving you plenty of design options and suggestions along the way. It is about making the building process seamless and stress free, so you can concentrate on living the rest of your life in a home that adapts to your lifestyle. Modern furnishings, LED lighting and other technological perfections are packed into each floor plan. You can take a floorplan and build it to your specifications or turn a move-in ready home into something special. Bell Custom Homes believes in giving you the power. The Pale Oak, one of their most incredible floorplans, can be seen in Cape Fear National.
Originally known as Plantation Building Corp, PBC Design + Build, they started building quality homes in 1997. Since its inception, PBC Design + Build has focused on providing home buyers with a superior product. At Brunswick Forest, the team only works alongside builders who demonstrate excellent customer service, utilize flexible floor plans, and build with superior materials. PBC Design + Build is another such custom build that really gives a lot of choice into the hands of the homebuyer.  The majority of their floorplans range from 2500-3800 square-feet of space, all of which can be tweaked to personal preference. Models and floorplans that feature living rooms, bedrooms, and bathrooms all on the main floor are common. Buyers can also customize their dream home to have a second floor with secondary bedrooms and extra space. They are not just beautiful homes, but they are also energy efficient. Best of all, the PBC Design + Build stays true to its name by placing customization and the building process under one roof. You can see their work for yourself in the neighborhoods of The Lakes, Cape Fear National and Shelmore.
When it comes to making a home your own, Brunswick Forest gives you tons of options to do so. These are truly custom homebuilders that not only have different floor plans available, but they can also work with you to transform one into your own dream home. If you are looking for more information, contact the real estate team at: 855.983.9579