Custom Homes with Grassroots Values: Bell Custom Homes
July 19, 2019
ISWebmaster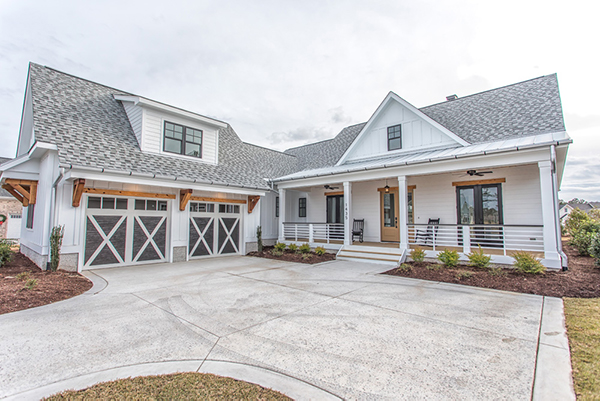 To build a fantastic home, is to build more than just a simple structure. Building a home is, essentially, constructing a place where people will create memories and enjoy life to its fullest extent. One of Brunswick Forest's phenomenal builders, Bell Custom Homes, constantly proves that a focus on quality goes a long way for aspiring homeowners. As a nationally certified general contracting company, Bell Custom Homes believes that quality and building a client-centered experience are of the utmost importance. The Bell Custom Home team will always do their best to walk you through the homebuilding process, giving you plenty of design options and suggestions along the way. From the latest building technologies to the quality of the materials being used by the building crews, Bell Custom Homes never skimps on giving you the kind of confidence you expect from getting a superior product.
Among their most incredible model home is The Pale Oak. This gorgeous model has everything you could want in a living space. Focusing on the classic farmhouse style look but with a fresh modern twist, The Pale Oak offers a wide and open floorplan with a touch of custom aesthetics. Customized ceiling beams cross atop the ceiling, giving you the feeling that this home has been expertly crafted. The ceiling beam designs also give this model a strong and solid feel to its construction. Shiplap lines The Pale Oak both inside and out making it incredibly attractive, rustic and charming. When you walk into this model, you can feel the personality of an authentic classic farmhouse leaping from the walls. Nothing says classic farmhouse style living like a wood-burning fireplace. This attractive feature will be perfect for those comfy evenings where you're looking to add a special touch to the inside atmosphere. The kitchen inside The Pale Oak is fully equipped with sleek and modern equipment, while tiles and wood accents round out a look that will make you want to enjoy every moment spent in it. LED lighting helps to emphasize the modern appeal of this model as well. The screened in porches that complement this home lead out to a comfortable deck, perfect for relaxing evenings or entertaining guests. For those of you who are looking for a little extra room, The Pale Oak provides great value in that aspect as well. Three bedrooms and four bathrooms help to round out the layout of this home, making for an overall roomy experience.
Currently, you can catch a glimpse of The Pale Oak model in the Cape Fear National neighborhood of Brunswick Forest. This section gives homeowners the feel of country club style living, with brilliant nature views and a top-class golf course. The Pale Oak is not a model that is necessarily exclusive to Brunswick Forest either. This impressive home design can be seen in Wilmington's premier gated communities like Landfall, where some of the area's highest valued and most exclusive homes are located. Located only minutes away from Wrightsville Beach, Landfall is known for its impressive country clubs, luxurious exclusivity and high quality of living!
Bell Custom Homes has impressed clients time and time again, which is why Brunswick Forest is so glad to have them aboard our team of 13 builders. Giving aspiring homeowners a variety of choice, plentiful options and a solid support system during the homebuying process is what makes the Bell Custom Homes experience stand out.