Bursting into Bloom: Brunswick Forest is Ready for Spring; Are You?
March 2, 2020
ISWebmaster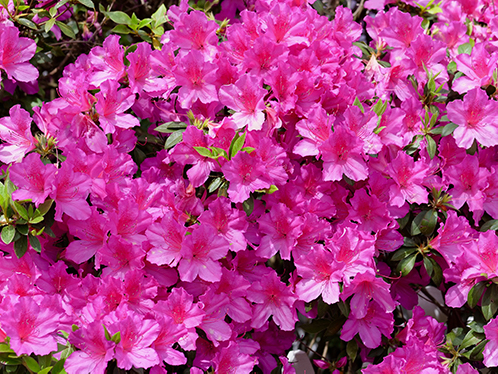 Spring, spring it's such a wonderful thing! With warmer temperatures, our outdoor amenities are always ready to host some of your favorite activities. Our residents love the options to maintain their active lifestyles. We are also gearing up for Property Release and Home Tour Weekends where aspiring residents will get a taste of Brunswick Forest's convenience, location, amenities and the lifestyle that come with it!
Tennis and Pickleball:
Tennis is a perfect way you can serve up a good time with friends and neighbors in the mild outdoor environment that we have here on the East coast. It's a classic way to get yourself outside to enjoy the fresh air and have fun. Even more can be said for pickleball; being that the sport is a blend between tennis, badminton and table tennis, it has a solid amount of intriguing play styles. Like tennis, pickleball can be played in singles or doubles and can be enjoyed by beginners and pros alike. With no less than 10 outdoor courts dedicated to this activity, pickleball is the big dill for springtime activity at Brunswick Forest.
Kayaking and Canoeing:
Kayaking and Canoeing are local pastimes that can be enjoyed all around our coast. Hammock Lake and Town Creek offer wonderful and safe areas for you to paddle your way to enjoying spring. It's also a great way to enjoy the surrounding natural scenery in our community.
Walking and Biking Trails:
During the spring season at Brunswick Forest, you can also catch residents enjoying the 100 miles of walking and biking trails. Out of all the master-planned communities one can find in the Southeast, only Brunswick Forest has dedicated so many resources to provide its residents with intertwining paths that have wooden boardwalks and a variety of paths that link to all the other amenities here. The walking trails are perfect for walking your dog, catching a morning jog with a friend or making your way down to another part of the community while getting your exercise in.
Championship Golf:
Few communities can compare with the natural splendor that is Cape Fear National. Golf is a perfect sport for a mild spring environment. With long fairways, sweeping bunkers and picturesque greens, Cape Fear National melds together with the local wildlife. Golfing is such a great way to get healthy exercise while enjoying the tranquil environment around you.
Public Garden:
There's also plenty of public space that you can take advantage of as a resident here at Brunswick Forest. If you're looking to start your own crop or plant outside, there's a public garden where you can truly become one with nature. This is a perfect opportunity if you're looking to plant produce or flowers for ornamental purposes.
March Sales Event and Health Fair:
Finally, there's a whole lot of major events happening this month as the spring season gets underway. The March Property Release and Home Tour Event will be going on March 26th-29th, where aspiring residents will be able to visit Brunswick Forest and participate in a number of activities such as a progressive neighborhood dinner party, having lunch in several beautiful model homes and engaging yourself in what the greater Wilmington area has to offer. There will also be a Health Fair and Expo down at the Villages Town Center. Sponsored by Coastal Integrative Health, residents and visitors will be able to meet different local businesses and learn all about how you can take care of yourself and live an active lifestyle for longer.
Springtime at Brunswick Forest is a fabulous time of year, where the community truly starts to come alive like the nature that surrounds it. Looking to explore your coastal nature and learn more about how you can be a part of the fun? Visit Brunswick Forest through a Coastal Discovery Tour, or contact our team at: 855.983.9579