Brunswick Forest: October Coastal Lifestyle Weekend
September 29, 2022
ISWebmaster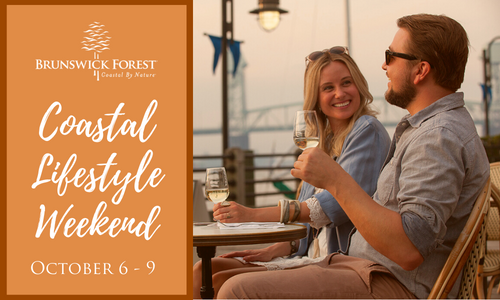 Changing With the Seasons
The breeze is cool, leaves are starting to change colors, but the temperature is still more than mild enough to spend time enjoying yourself outdoors. What better way to kick off the season than with Brunswick Forest's Coastal Lifestyle Weekend. It's an entire Autumn weekend in a coastal paradise and you're invited!
Our October Coastal Lifestyle Weekend
From Friday October 7th to Saturday October 8th, you'll have an opportunity to see what the coastal side of life is like. A continuation of our Coastal Showcase Weekends, this will be a boutique weekend event that's jam-packed with plenty of fun! Here's a quick look at what the itinerary will look like for October.
Friday, October 7th – Welcome Home:
Taking place from 1 to 5 pm, you will be able to stop by our Welcome Center at Brunswick Forest to enjoy some beverages and tasty snacks. This is a good moment to ask all the questions you have pertaining to our community and area! You can consider this your entry to living Coastal by Nature®. Kick back and relax because you're in for a special time.
Saturday October 8th – Explore Our Builders:
Looking to learn all you can about being part of our coastal family while grabbing a bite to eat? Then our builders lunch taking place in the brand new Shelter Bay Model home from 12 to 2 pm is for you! The lunch will be sponsored by Kent Homes. Tour this gorgeous model, learn about their floorplans and upcoming homes from their team.
One of our most recent upcoming neighborhoods, The Peninsula at Cape Fear National, will set the standard for exclusive golf course living. We'll have plenty of model homes for you to peek at while you're here, and our building partners will be on standby to answer your questions!
From 12 to 4 pm you will have a chance to spend some quality time getting to tour our model homes and learn about our homes under construction and coming soon. One of our most recent upcoming neighborhoods, The Peninsula at Cape Fear National, will set the standard for exclusive golf course living. Check out the remaining premier homesites and learn about the floorplans available to build on them.
Saturday October 8th – Happy Hour with Our Builders:
Round out the evening with a special evening on us including beer, wine, and light table fare. This is also a great opportunity to spend a little more time with each of our builders, have fun, make new friends, and learn even more about what your life could be like living at Brunswick Forest. This will all be taking place over at Bridgewater Wines in Leland, one of the premier wine shops in the greater Wilmington area. It's the perfect ending to a weekend in coastal Carolina!
RSVP Today
If you haven't RSVP'd for our October Coastal Lifestyle Weekend, you still have a chance to join in the fun! Be sure to take a chance to explore the local area and experience everything our home has to offer you. This event has also been coordinated in partnership with our preferred lending partners Atlantic Bay Mortgage Group, and the team at Wells Insurance. They've all helped to make this special event possible! Or you can contact our team for more details regarding the event at 833-497-1001.