Brunswick Forest Gives Thanks
November 23, 2022
ISWebmaster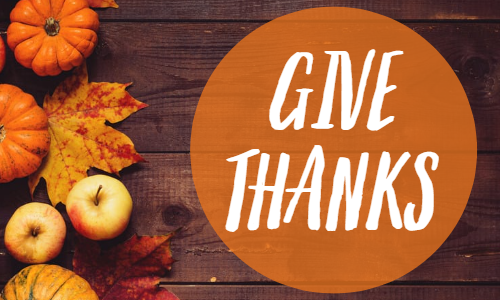 Giving Thanks
What do you think of when you hear "Thanksgiving?" Most will imagine a large feast on the table, family and friends gathering and maybe watching football and the Macy's Day Parade. The concept of reflecting on the joys that life has handed you goes back several hundred years and holds great significance. This holiday season, the team at Brunswick Forest wanted to take a few moments to reflect on what makes us thankful.
A Bit of History
When English Pilgrims were said to first sit at a feasting table with members of the Wampanoag tribe and give thanks for their bountiful harvest, they had no idea how much of a cultural phenomenon their "Thanksgiving" would become. It wasn't until 1863 that their tradition would be declared an official national holiday. Since then, people across the country take this special day to reflect on the food, family, friends, and good health they have in life. Giving thanks can take a variety of forms, and for our agents here at Brunswick Forest, we have a lot to be thankful for.
We've Come a Long Way
Brunswick Forest has grown exponentially from the humble pine forest and sandlot it was in the very beginning. From a small sales office center to one of the finest master-planned communities in Southeastern North Carolina. Since our first sales, our Coastal By Nature® family has grown to include thousands of residents, hundreds of homes, and phenomenal amenities.
Our Residents Are Like Family
Our team wants to thank all our amazing residents. You've become more than a homeowner to us. For many of you that have personally worked with our agents, you've become lifelong friends with your own stories and reasons for moving to coastal Carolina. Through learning about those stories our team feels like we've gotten to have you as part of our family here at Brunswick Forest.

We're Still Expanding
Our team is also thankful for keeping strong despite challenges the market has thrown our way. These past few months have been productive for us in welcoming more residents, building more homes, and introducing new models. We're also thankful for all the amazing progress that has taken place in new neighborhoods such as The Peninsula at Cape Fear National. Our team is happy to see this community grow year after year. It is our fondest wish to see these incredible developments continue and give their aspiring residents the dream homes they've always wanted.
Thank You to our Partners
Our community wouldn't be what it is today without the support of our residents, but also our amazing staff. From the front desk receptionists at the Welcome Center to the new promotions at the Fitness and Wellness Center, it takes a team of amazing individuals to make something spectacular like this grow and work for over a decade. That includes our partners at Atlantic Bay Mortgage, Wells Insurance, and all our preferred builders.
Happy Thanksgiving
The Brunswick Forest Team wishes everyone a safe and Happy Thanksgiving!